Belgium / France
2007, 96 min

Section: Another View
Year: 2008
It's been twenty-five years since the day a socially disgruntled youth hijacked a bus full of children. Daniel, a reporter fed up with hosting a television show for motorists, and beset by problems with his partner, decides to stage a re-enactment of the hijacking using both the abductees and the abductor.
Synopsis
Daniel, a television reporter whose career has snagged on a TV show for motorists, decides to take advantage of the anniversary of a school bus hijacking to bring the parties to the event together and find out what has changed in the twenty-five years since the incident. The bygone crime was intended to draw attention to the country's social plight and, as some would have it, not much has changed since then. Will the ambitious reporter be able to get to the core of the matter? And what will he learn about himself with the help of the ham-fisted crew? Popular Belgian actor Benoît Poelvoorde, who received a Silver Hugo for Best Actor at the Chicago IFF for his performance in Mariage's The Carriers Are Waiting, stars as the ambitious television reporter walking a fine line between empathy and unscrupulousness. It is this striking, ambivalent protagonist, entirely disarming with his perfect eloquence, that makes this lucidly planned social comedy a truly memorable film.
About the director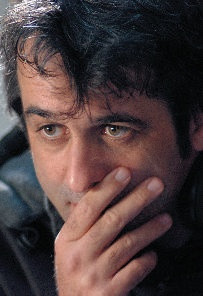 Benoît Mariage (b. 1961, Virton, Belgium) studied law and then directing at INSAS in Brussels. He started out as a photographer, worked for television and, in 1989, founded his own production company, Tram 33, in which he shot and produced his own documentaries. His short film The Signalman (Le signaleur, 1997) was shown at the festival in Cannes. His feature film debut The Carriers Are Waiting (Les convoyeurs attendent, 1998) was presented in the Directors' Fortnight at the Cannes IFF and was later also screened in Karlovy Vary, as was his family drama The Missing Half (L'autre, 2003).
Contacts
UGC International
24, avenue Charles de Gaulle, 92522, Neuilly sur Seine
France
Tel: +33 1 464 044 00
Fax: +33 1 463 717 09
E-mail: [email protected]
www: www.ugc.fr

About the film
Color, 35 mm

| | |
| --- | --- |
| Section: | Another View |
| | |
| Director: | Benoît Mariage |
| Screenplay: | Benoît Mariage |
| Dir. of Photography: | Philippe Guilbert |
| Music: | Saule |
| Editor: | Philippe Bourgueil |
| Producer: | Dominique Janne |
| Production: | K-STAR |
| Cast: | Benoît Poelvoorde, Gilbert Melki, François Damiens, Julie Depardieu, Bouli Lanners |
| Contact: | UGC International |
| | |
| www: | www.myspace.com/cowboylefilm |