USA
2007, 84 min

Section: Another View
Year: 2008
Twelve-year-old Latino orphan Alejandro works hard in an auto-body shop in the New York borough of Queens and tries to save up for a better future for himself and his sixteen-year-old sister. Does he have any chance of success? An unemotional, unsentimental look at the lives of outsiders on the outskirts of society that won the Independent Spirit Award in 2008.
Synopsis
12-year-old Latino orphan Alejandro has been toughened by a life on the streets. He works in an auto-body repair shop on the outskirts of Queens, New York, where he also lives with his 16-year-old sister Isamar. With the resolution of a grown-up, he tries to save enough money to make a better life for himself. He soon discovers, however, that diligence and responsibility are not going to bring him success in a world full of injustice. Out of this story, seen through the eyes of a child, comes a drama about the day-to-day struggle for a meagre existence, the little hero of which never gives up hope, even when he loses the support of those closest to him. Director Ramin Bahrani observes his outsider protagonists with a sensitive though nonetheless unsentimental eye that recalls the social realism of the films of Ken Loach. At the same time he also draws on the authentic environment of the "Iron Triangle" district, an area of garbage dumps in Willet's Point under the shadow of the elegant Shea Stadium in Queens, New York – a place of hopelessness described by F. Scott Fitzgerald in The Great Gatsby as the "Valley of Ashes". The film won the Independent Spirit Award in 2008.
About the director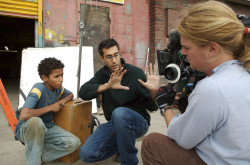 Ramin Bahrani (b. 1975, Winston-Salem, North Carolina) studied film at Columbia University and subsequently lived in his parents' native Iran for three years before returning to the USA to make his feature film debut about a Pakistani immigrant in New York, Man Push Cart (2005). This film was shown at a number of prestigious festivals (the Venice IFF, Sundance Film Festival, Karlovy Vary IFF) and won its creator a FIPRESCI Prize at the London Film Festival and a nomination for an Independent Spirit Award. Bahrani had already attracted attention, however, with his short story of an Iranian-American girl, Backgammon (1998), and the medium-length Strangers (2000), which again dealt with the ties that Iranians living in the USA have with their homeland.
Contacts
The Works Film Group
5th Floor, Fairgate House, 78 New Oxford Street, WC1A 1HB, London
United Kingdom
Tel: +44 207 612 1080
Fax: +44 207 612 1081
E-mail: [email protected]
www: www.theworksfilmgroup.com

About the film
Color, 35 mm

| | |
| --- | --- |
| Section: | Another View |
| | |
| Director: | Ramin Bahrani |
| Screenplay: | Bahareh Azimi, Ramin Bahrani |
| Dir. of Photography: | Michael Simmonds |
| Music: | M. Lo |
| Editor: | Ramin Bahrani |
| Producer: | Lisa Muskat, Marc Turtletaub, Jeb Brody |
| Production: | Big Beach |
| Cast: | Alejandro Polanco, Isamar Gonzales, Rob Sowulski, Carlos Zapata, Ahmad Razvi |
| Contact: | The Works Film Group |