Czech Republic
2008, 107 min

Section: Czech Films 2008-2009
Year: 2009
Railway guard Josef Douša saves the life of a young man who tries to jump under a train; however, in doing this, he complicates his efforts to establish a serene coexistence with his beloved wife after his horrific experiences in the trenches during the First World War. Douša suspects that Anička has fallen in love with Ferda. In feigning deafness, will he be able to find out the truth? And will he gain anything by this? The psychological drama inspired by Josef Kopta's novel tells of the grievous destiny of a man who desperately seeks to regain stability in life.
Synopsis
Railway guard Josef Douša one day saves the life of a man who tries to jump under a train. Young Ferda, however, falls in love with the guard's wife Anička. After his horrific experiences from the trenches during the First World War, Douša has had difficulty hearing, but now it comes in useful to feign deafness in order to find out what people are saying about him and about his wife's supposed infidelity. Yet, doing this only leads to further misgivings as he turns his own existence and the lives of those closest to him into a living hell. Based on the psychological novel by Josef Kopta, Eduard Verner's script provided Filip Renč and Zdeněk Zelenka with a compelling story about the grievous destiny of a man who, after his traumatic war experiences, seeks desperately to regain stability in love, work and family life. The film garnered Czech Lion awards (for actors Karel Roden and Vladimír Dlouhý, and editor Jan Mattlach) and the Golden Reel award for Best Director at the Tiburon IFF in the USA.
About the director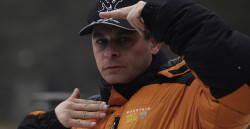 Filip Renč (b. 1965, Prague) studied documentary film direction at Prague's FAMU (1991), although he began in film as a child actor at the age of eight. He was already making a name for himself during his studies: Backwater (Zapadákov, 1987), Fanstory (1987), Countess (Srdíčko, 1988) and The Runner (Běžec, 1990). In 1991 he debuted with the feature-length psychological drama Requiem for a Maiden (Requiem pro panenku, 1991). His filmography demonstrates his skills in a palette of genres: the dramatic parable of violence The War of Colours (Válka barev, 1993 – Czech Lion for Best Editing), the musical set in August 1968 Rebels (Rebelové, 2001 – Audience Award at the Plzeň FF, Czech Lions for costume design and sound), the video film based on the stage musical Cleopatra (Kleopatra, 2003), the romantic comedy From Subway with Love (Román pro ženy, 2005 – Czech Lion for Best Film) and the thriller At Your Own Risk (Na vlastní nebezpečí, 2008). He is also a sought-after and successful creator of video clips.
About the film
Color, 35 mm

| | |
| --- | --- |
| Section: | Czech Films 2008-2009 |
| | |
| Director: | Filip Renč |
| Screenplay: | Eduard Verner, Filip Renč, Zdeněk Zelenka podle románu Josefa Kopty/based on the novel by Josef Kopta |
| Dir. of Photography: | Karel Fairaisl |
| Music: | Jiří Škorpík |
| Editor: | Jan Mattlach |
| Producer: | Jaroslav Kučera |
| Production: | Česká televize / Czech Television |
| Cast: | Karel Roden, Lucia Siposova, Václav Jiráček, Vladimír Dlouhý |
| Contact: | Czech Television - Telexport, Falcon a.s. |
| Distributor: | Falcon a.s. |
| | |
| www: | www.hlidac47.cz |
Guests
Jitka Procházková
Festival Organizer, TV Representative
Filip Renč
Film Director
Lucia Siposová
Actress
Jan Bradáč
Distributor, Cinema Representative, Producer
Svatava Peschková
Distributor