Germany
2013, 15 min

Section: Documentary Films - Competition
Year: 2013
More than two million inhabitants could live in the recently built Chinese city of Kangbashi. The majority of the buildings, however, remain empty because money-mad speculators have bought up all the apartments. Breathtaking images reveal the inanimate chill of a city that has lost the fight against humanity's insane lust for wealth.
Synopsis
More than two million people could live in the newly-built Chinese city of Kangbashi but so far only a few thousand have moved in. Profit-hungry speculators have bought up all the apartments, thus creating a ghost town of deserted streets lined with austerely rigid buildings. The movie takes a surrealistic story by Michael Ende, transforming it via powerful visuals into a chilling parable about the absurdity of the modern world, where people worship Mammon above all else. Indeed, as long as everyone believes that property values will keep rising, nothing about Kangbashi's sad fate will ever change.
About the director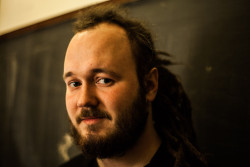 Konrad Kästner (b. 1984, Leipzig) worked in South Africa in 2003-08 as an assistant director and director of photography on a variety of small film projects; he also shot his first short documentaries there. In the meantime he decided to study film direction at Hochschule für Film und Fernsehen (HFF) in Potsdam, where his first documentary, ETWAS ich (2007), was picked up by a number of festivals. He shot Giftchen, his first feature-length documentary, in 2011. In addition to his film career he also devotes time to visual theatrical arts.
Contacts
DETAiLFILM Gasmia & Kamm GbR
Eppendorfer Weg 57a, 20259, Hamburg
Germany
Tel: +49 406 094 0944
Fax: +49 406 094 0946
E-mail: [email protected]
www: www.detailfilm.de

About the film
Color, DCP
World premiere
| | |
| --- | --- |
| Section: | Documentary Films - Competition |
| | |
| Director: | Konrad Kästner |
| Screenplay: | Konrad Kästner |
| Dir. of Photography: | Eva Katharina Bühler |
| Music: | Hildur Guðnadóttir |
| Editor: | Konrad Kästner |
| Producer: | Fabian Gasmia, Henning Kamm |
| Production: | DETAiLFILM Gasmia & Kamm GbR |
| Contact: | DETAiLFILM Gasmia & Kamm GbR |
Guests
Fabian Gasmia
Producer
Konrad Kästner
Film Director, Film Director