Czech Republic / Slovak Republic
2013, 93 min

Section: Czech Films 2013–2014
Year: 2014
Dying Vladimír's current partner and a former lover gather at his bedside. Vladimír's temperament and the difficult situation put everyone through the ringer, allowing them to glimpse both their strengths and their weaknesses. This authentic slice of life took two Czech Lions and Czech Film Critics' Awards for the lead actors.
Synopsis
We find the protagonists of Like Never Before in circumstances that promise little hope. Painter Vladimír knows that he is dying and, considering his temperament, the situation really puts his girlfriend through the ringer. But it's not simple surliness that defines his character – on the contrary, the movie attempts to identify the source of Vladimír's behavior and show how fear can change a person. Employing a light emotional touch, the movie also encourages the viewer to join the characters on a difficult journey mined with situations that essentially concern a person's final affairs. This leads to a gradual acceptance of the conflicting personalities of characters whose level of understanding or condescension may be entirely different than at first it seems. As a point of departure, the film offers up a pivotal situation that naturalistically determines the behavior of each character, including Vladimír's son and his partner, who are the most unsettled by the confrontation with death. It is up to them alone, however, if and how they will be altered by this journey.
About the director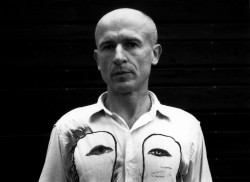 Zdeněk Tyc (b. 1956, Rokycany, Czechoslovakia) graduated from FAMU with the distinctive black-and-white movie Vojtěch, Called the Orphan; the film slipped between the cracks during the ebullient revolutionary period of 1989 but is now among the most highly regarded pictures of the period. The generational movie Razor Blades (1993), starring poet and musician Filip Topol, was followed by the comedy Seizing the Day (1995). The psychological drama The Brats (2002), focusing on Czech-Romany relations, was screened in competition at KVIFF, and at the Istanbul IFF it took the prize for direction; Tyc returned to the world of Romany children in the drama El Paso (2009). A frequent collaborator with Czech TV, he also helmed the HBO standup comedy series "Up and at 'Em" and codirected the satire Ivan, My Friend, Can You Speak? (2005). The director cooperated on the award-winning documentary series Bigbít (1998).
About the film
Color, DCP

| | |
| --- | --- |
| Section: | Czech Films 2013–2014 |
| | |
| Director: | Zdeněk Tyc |
| Screenplay: | Markéta Bidlasová |
| Dir. of Photography: | Patrik Hoznauer |
| Music: | Zdeněk Král, Kazety |
| Editor: | Vladimír Barák |
| Producer: | Ondřej Trojan |
| Production: | Total Help Art |
| Coproduction: | Česka televize, PubRes |
| Cast: | Petra Špalková, Jiří Schmitzer, Taťjana Medvecká, Marek Němec |
| Contact: | PubRes |
| Distributor: | Falcon a.s. |
Guests
Ondřej Trojan
Festival Organizer, Film Director, Producer
Zdeněk Tyc
Film Director
Patrik Hoznauer
Director of Photography
Taťjana Medvecká
Actor
Jan Bradáč
Distributor, Cinema Representative, Producer
Svatava Peschková
Distributor
Zuzana Mistríková
Producer
Martin Repka
Film Director / Producer
Petra Špalková
Actress