Archive of films

Two Years at Sea / Two Years at Sea
A feature-length return to the domain of Jake Williams, the protagonist of This Is My Land. The captivating black-and-white portrait embraces both the intriguing hero and his poetic surroundings, which have a language of their own – like people, objects have a history. And when the history is shared, the possibilities are endless.
Synopsis
When's the last time you read a book for so long that the fire burned out? Jake Williams, protagonist of the short film This Is My Land, lives alone in Aberdeenshire defying the pressures of social convention, and this is where Ben Rivers returned to shoot his feature-length debut. The strong black-and-white film limns a taciturn, double portrait – of a man unafraid to follow his radical dream, and of the incredibly magical place he inhabits with just his cat. The director follows Williams with great consistency, although he doesn't shrink from staged situations that produce highly natural results. Whether Rivers is shooting a long take of the protagonist sitting on a homemade raft or of dusty bottles on a shelf, he manages with each moment to speak more cogently than if we'd read Williams' biography. Interposed photographs, apparently of Jake's past, offer the only smatterings of information, but in no way do they disrupt the enigmatic depiction of his current life. And that life is controlled by its own pace and by the passage of time he himself dictates, the attractions of which are all the greater as the pressures to conform to contemporary Western civilization become ever more unpleasant. "Jake is very outspoken about not being called an eccentric. He always says it's very eccentric to decide to go to an office from 9 am to 6 pm, five days a week," Rivers says of the man.
About the film
Black & white, 35 mm

| | |
| --- | --- |
| Section: | Tribute to Ben Rivers |
| | |
| Director: | Ben Rivers |
| Screenplay: | Ben Rivers |
| Dir. of Photography: | Ben Rivers |
| Editor: | Ben Rivers |
| Producer: | Ben Rivers |
| Contact: | LUX |
Guests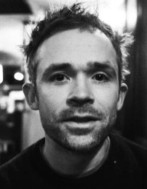 Ben Rivers
Film Director