Archive of films

Hyrcynium Wood / The Hyrcynium Wood
A woman fleeing through the woods, an uncertain mystery. This short, mood-inducing film is not the director's first to demonstrate his affinity for old genre movies, whose body and aesthetic he reworks in his own original way.
Synopsis
A young woman runs through the woods to the sound of a storm and pealing bells. The reasons for her haste are just as unclear as the contours of buildings that pass by. This vivid collage, which brings the director's work closer to the aesthetic of Canadian wiz Guy Maddin, is among the films that reveal his fondness for forgotten works of cinema. The resulting form thus makes it clear that part of the magic involves blundering through the unknown. Reminiscent mood-wise of genre classics such as Jack Clayton's iconic The Innocents (1961), The Hyrcynium Wood also offers a large dose of disturbing surrealism.
About the film
Black & white, DCP

| | |
| --- | --- |
| Section: | Tribute to Ben Rivers |
| | |
| Director: | Ben Rivers |
| Screenplay: | Ben Rivers |
| Dir. of Photography: | Ben Rivers |
| Editor: | Ben Rivers |
| Producer: | Ben Rivers |
| Contact: | LUX |
Guests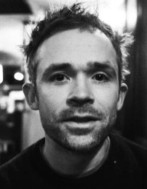 Ben Rivers
Film Director