Archive of films

Love & Engineering / Love & Engineering – Rakkauden insinöörit
Finland / Germany / Bulgaria
2014, 80 min

Section: Documentary Films - Out of Competition
Year: 2014
A group of programmers gets carried away by the idea of finding an algorithm for entering into interpersonal relationships. Will our heroes succeed in hacking love and creating an instruction manual for bashful men? An audience favorite at many of the spring festivals, this one-of-a-kind documentary comedy seeks to provide an answer.
Synopsis
Although it's now impossible to imagine our daily lives without computer technology, computer engineers have yet to master certain social phenomena. Interpersonal relationships are one such area of human behavior that consistently resist programming languages and the methodologies of exact sciences. But how to help shy men whose brains excel at solving equations and building circuits? Would it be possible to write them a love manual? Atanas, a Bulgarian living with his family in Finland, becomes fascinated by this enticing idea. The engaging programmer believes that establishing a relationship between a man and a woman is a hackable process. Enthusiastic and firmly convinced that he is right, Atanas and his colleagues begin doing research to verify his individual hypotheses in practice. This one-of-a-kind docu-comedy approaches the oddities of its tragicomic characters without the least ridicule, with helped it win the hearts of viewers at a number of world festivals.
About the director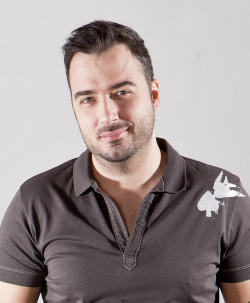 Tonislav Hristov (b. 1978, Vratsa, Bulgaria) moved from Bulgaria to Finland as a child and, not surprisingly, his first documentary, Family Fortune (2009), was shot for both Finnish and Bulgarian television. His feature debut Rules of Single Life (2011) broke into distribution in both Finland and Bulgaria, winning Best Documentary at the Sofia IFF and screening at a number of other fests (the Jihlava IDFF among them). Hristov's next two highly successful projects also had active festival careers: Soul Food Stories (2013) was selected to compete in the medium-length category at Amsterdam's prestigious IDFA, while Love & Engineering was presented at New York's Tribeca, Toronto's Hot Docs, and Nyon, Switzerland's Visions du Réel (gala opening film).
Contacts
Films Transit International Inc.
252 Gouin Boulevard East, H3L 1A8, Montreal, Quebec
Canada
Tel: +1 514 844 3358
Fax: +1 514 844 7298
E-mail: [email protected]
www: www.filmstransit.com

The Finnish Film Foundation
Kanavakatu 12, 2nd floor, 00160, Helsinki
Finland
Tel: +358 962 203 00
Fax: +358 962 203 050
E-mail: [email protected]
www: www.ses.fi

About the film
Color, DCP

| | |
| --- | --- |
| Section: | Documentary Films - Out of Competition |
| | |
| Director: | Tonislav Hristov |
| Screenplay: | Tonislav Hristov, Kaarle Aho |
| Dir. of Photography: | Peter Flinckenberg |
| Music: | Petar Dundakov |
| Editor: | Nikolai Hartmann |
| Producer: | Kaarle Aho |
| Production: | Making Movies Oy |
| Coproduction: | Filmtank, Agitprop Ltd. |
| Contact: | Films Transit International Inc., The Finnish Film Foundation |
Guests
Tonislav Hristov
Film Director
Kaarle Aho
Producer