Belgium / Mexico
2014, 108 min

Section: Imagina
Year: 2015
The Morning Star turns up in a remote Mexican village, intent on helping people. But could this change come from on high? In this final part of his trilogy – another original work – Gust Van den Berghe looks to notions of an earthly paradise, using an entirely new film format to portray it. Might the boundaries of the spiritual world be in the shape of a circle?

Synopsis
In a Mexican village a ladder appears reaching down from heaven, and a mysterious traveler, perhaps the Morning Star on his way from heaven to hell, enters the lives of elderly Lupita, her drunken brother Emanuel, and her granddaughter Marie. At first it seems as though he has come to help. The paralyzed Emanuel stands on his feet once again and religious sentiment reawakens in the village. But then things take a new direction. Shot in an unusual format, which the director has named Tondoscope in reference to traditional art forms, the film offers an entirely new perspective. The circular image has at its disposal a different internal dynamic, which the filmmakers complete by ingeniously treating the spatial planes and boundaries of the image. Aided by a color scheme that seems stained with the patina of period photographs, they succeeded in creating a space in which questions of spirituality, or the lack thereof, are reflected. The film is reminiscent of the work of Carlos Reygadas in its constrained pace that betrays a marked internal tension, but first and foremost this encounter with the Morning Star represents an original vision of paradise on Earth.
Viktor Palák
About the director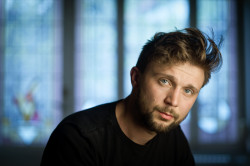 Gust Van den Berghe (b. 1985, Borgerhout, Belgium) is a multitalented Belgian artist. He began dancing at a very early age, performing with Praga Khan, the Royal Ballet of Flanders, and Marc Bogaerts, as well as in several plays. He then graduated in audiovisual arts in Brussels. He has shot several short films (My Daddy and Me / Mijn papa en ik, 2006; Cut / Doek, 2006; On the Surface / Aan de oppervlakte, 2007) and documentaries (cum*SHOT, 2007; Les petits rois, 2007; Tegenpolen, 2008). He graduated with his first feature film Little Baby Jesus of Flandr (En waar de sterre bleef stille staan, 2010) which, like his next picture Blue Bird (2011), was presented in the Directors' Fortnight at Cannes. The latter played in Karlovy Vary as well. Lucifer is the final installment of his triptych.
About the film
Color, DCP

| | |
| --- | --- |
| Section: | Imagina |
| | |
| Director: | Gust Van den Berghe |
| Screenplay: | Gust Van den Berghe |
| Dir. of Photography: | Hans Bruch Jr. |
| Editor: | David Verdurme |
| Art Director: | Natalia Treviño |
| Producer: | Tomas Leyers |
| Production: | Minds Meet |
| Coproduction: | Películas Santa Clara |
| Cast: | Gabino Rodríguez, Norma Pablo, María Toral Acosta, Jerónima Soto Bravo, Sergio Lázaro Cortez |
| Sales: | Mantarraya NDM |
Guests
Gust Van den Berghe
Fiorella Moretti
Sales Agent