Italy / USA
2015, 3 min

Section: Imagina
Year: 2015
Father? – Yes, son! Father Murphy are the crown princes of the Italian psychedelic scene. Luca Dipierro is an artist working in cutout animation. This is his vision of the crucifixion as mediated by the hypnotic eponymous composition from the band's album Croce.
Synopsis
The duo Father Murphy are among the leading contenders on the Italian psychedelic scene (which also includes Ovo, Morkobot, and Mombu), and their album Croce (2015) is one of the catalogue highlights of the San Francisco label The Flenser. The music video for their song "A Purpose" is a re-imagination of the act of the crucifixion firmly established in Western culture, a work inspired in equal measure by commedia dell'arte, Renaissance painting, and 19th century children's puppet theater. The mood of the grotesque does justice to the musical source material, while the character of the animation adds ambivalence to a new way of looking at the iconic act.
Viktor Palák
About the director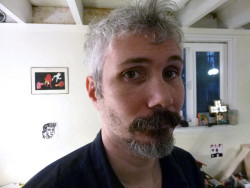 Luca Dipierro (Merano) is an Italian-born animator based in Portland, Oregon. His work involves the cutout animation technique and is regularly presented at festivals and galleries in the USA and Europe. He has also contributed cover art to numerous books and music albums. His cooperation with Father Murphy goes back years, culminating (thus far) in the Paper Circus project. At present he is working on his feature debut The Cadence.
About the film
Color, DCP
International premiere
| | |
| --- | --- |
| Section: | Imagina |
| | |
| Director: | Luca Dipierro |
| Screenplay: | Luca Dipierro |
| Dir. of Photography: | Luca Dipierro |
| Music: | Father Murphy |
| Editor: | Luca Dipierro |
| Art Director: | Luca Dipierro |
| Producer: | Luca Dipierro |
| Contact: | Luca Dipierro |