France / Ethiopia / Germany / Norway
2015, 94 min

Section: Another View
Year: 2015
When young Ephraim's father has to leave him in search of work, he sends the boy to stay with relatives in the mountains. At his new home, the boy's only comfort is the sheep he brought with him. The mountain community, however, is struggling against poverty and hunger, and the life of Ephraim's four-legged friend is at risk. Despite his age, the boy is determined to do anything necessary to save her. The Ethiopian director's debut film premiered at the recent Cannes festival.
Synopsis
Herdsman Abraham's wife has just passed away, and northern Ethiopia, where he lives, is plagued by drought. So he decides to go off to the city in search of work, leaving behind his nine-year-old son (and the boy's much loved sheep) to stay with relatives in the country. Even though their house stands amongst lush green hills, Ephraim finds it difficult to get used to the new environment, and his aptitude for working the fields is sorely lacking. On the other hand, he discovers he has a talent for cooking and starts selling his wares in the small town nearby. Despite a spot of bother with the local boys and with his bad-tempered uncle, things wouldn't look so bad if it weren't for an approaching religious feast that threatens the existence of his ovine pet. When put to the test, Ephraim is willing to do anything to save the animal. This debut, screened at Cannes this year, sees Yared Zeleke presenting a detailed portrayal of an Ethiopian village, with its customs and patriarchal position of women. Cast with local inhabitants who behave entirely naturally in front of the camera, the picture's true charm lies in its strong visuals.
Eva Zaoralová
About the director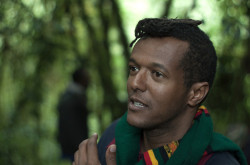 Yared Zeleke (b. 1978, Addis Ababa, Ethiopia) first earned his bachelor's degree at Clark University in Worcester, Massachusetts, and then studied screenwriting and directing at New York University under Todd Solondz. After several short films his script for Lamb won a screenwriting competition at the festival in Amiens, which enabled him to embark upon its realisation.
About the film
Color, DCP

| | |
| --- | --- |
| Section: | Another View |
| | |
| Director: | Yared Zeleke |
| Screenplay: | Yared Zeleke |
| Dir. of Photography: | Josée Deshaies |
| Music: | Christophe Chassol |
| Editor: | Véronique Bruque |
| Art Director: | Laurence Brenguier |
| Producer: | Laurent Lavolé, Ama Ampadu, Johannes Rexin |
| Production: | Gloria Films, Slum Kid Films, Heimatfilm |
| Coproduction: | Dublin Films, Film Farms, Das Kleine Fernsehspiel |
| Cast: | Rediat Amare, Kidist Siyum, Welela Assefa |
| Sales: | Playtime |
Guests
Camille Segura
Sales Agent