Archive of films

Sun Ra: Space Is the Place / Sun Ra: Space Is the Place
USA
2003, 82 min

Section: 2004: A Musical Odyssey
Year: 2004
A bizarre sci-fi flick starring outer-space bandleader Sun Ra, and featuring mysticism, nudity and pro-black racism. 
Synopsis
Eminent jazz/avant-garde bandleader Sun Ra (1914-93, born Herman "Sunny" Blount) always presented himself as myth. In his own words he came from Saturn, and his free jazz Arkestra was an evangelising ensemble bent on ensuring cosmic harmony. He plays the lead in a film first conceived as a low-budget tribute to early sci-fi movies of the fifties and sixties. Powered by musical energy, Sun Ra lands on Earth (in Oakland, California) in 1972. He has come to tangle with supernatural exploiters of the black race. Before freeing several select souls, he must escape not only his enemies, but the FBI and NASA as well. Musical-ritual numbers permeate the plot. Sun Ra and his flying sanctuary take off for the vastness of outer space just prior to the destruction of the Earth. This naïve and imaginative film well reflects period "blaxploitation" movies, which often included pro-black racism and full-frontal nudity. At the time they had limited screenings (New York, San Francisco). The director's uncensored cut premiered in 2003 with an added 20-minutes of footage; this version is being screened at the festival.
About the director
John Coney: Not many traces remain of this director since the inconspicuous release, thirty years ago, of Space Is the Place. Indeed, he is known to the public only in connection with this title. Perhaps it is best to look at "blaxploitation" movies with a certain historical objectivity, just as when watching the films of Edward D. Wood Jr. The movie not only investigates the music of Sun Ra's Arkestra, but also the spirit of the period and the ideological background that helped create a ritually textured, distinctive Afro-American music. 
Contacts
Plexifilm
580 Broadway #1003, 10012, New York
United States of America
Tel: +1 212 965 9220
Fax: +1 212 965 9262
E-mail: [email protected]
www: www.plexifilm.com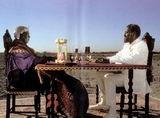 About the film
Color, 35 mm

| | |
| --- | --- |
| Section: | 2004: A Musical Odyssey |
| | |
| Director: | John Coney |
| Screenplay: | Joshua Smith |
| Dir. of Photography: | John Coney |
| Music: | Sun Ra |
| Editor: | Barbara Pokras, Frank Namei |
| Producer: | Jim Newman |
| Production: | Plexifilm |
| Contact: | Plexifilm |
| | |
| www: | www.plexifilm.com/space.html |
Guests
Gary Hustwit