China
2015, 110 min

Section: Another View
Year: 2016
A doctor with a dark past sets out on a journey to his native region to fulfil his promises. As he arrives in a small town swathed in mist rising from the river, his stifled memory starts to live its own life and mysteriously melds with the destiny of the rural inhabitants. The creator of this mesmeric snapshot wrenched from the relentless course of time was the discovery of last year's festival in Locarno.
Synopsis
Even a fine sketch of a small episode in an ordinary man's life can embrace the past, present and future of the largest of nations. In 26-year-old poet Gan Bi's debut a provincial doctor sets off on a pilgrimage to find his brother's abandoned son and to reunite bygone lovers through the keepsakes entrusted to him. In one mesmeric, forty-minute take, his journey to his native region is transformed into a mystical experience. The hand-held camera starts to live its own life as it scans a stretch several kilometres long, its unpredictable course resembling the meanders of a river. As the doctor reaches a small Chinese town, the twilight is transformed into a magical temporal plane which slowly takes possession of his drifting memory. Kaili Blues is a visionary cinematic poem about the agonising desire to displace the past but also to come to terms with it. The main character's emotions are intrinsically linked with the lives of the rural inhabitants, who are caught between a troubling history and an auspicious future, between their nostalgia and the turbulent changes affecting their country.
Jakub Jiřiště
About the director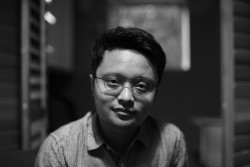 Gan Bi (b. 1989, Kaili, China), one of the youngest poets and filmmakers in China today, graduated in film direction in 2011 with Tiger, which he set in his native city, rendering a fugal form to this simple story of an encounter between two friends. His entire work to date, however, is founded on variations where the same characters appear, yet live different lives each time. His short Diamond Sutra (2013, awarded a Special Mention as part of the Incubator for Film and Visual Media in Asia) examines the Buddhist theme of empty illusions by means of the re-encounter of two characters. Likewise in his latest film Kaili Blues (2015), which earned Best First Feature and Best Emerging Director at Locarno, Gan Bi draws on his experience as a poet and further develops his poetic and mystical universe using his native region as a backdrop, while also incorporating his own experiences into his narrative.
Contacts
China Film (Shanghai) International Media Co., Ltd.
Donghu Road, 200031, Shanghai
China
Tel: +86 215 647 5201
E-mail: [email protected]
www: www.cfi-sh.com

About the film
Color, DCP

| | |
| --- | --- |
| Section: | Another View |
| | |
| Director: | Gan Bi |
| Screenplay: | Gan Bi |
| Dir. of Photography: | Wang Tianxing |
| Music: | Lim Giong |
| Editor: | Qin Yanan |
| Art Director: | Zhu Yun |
| Producer: | Wang Zijian, Shan Zuolong, Li Zhaoyu |
| Production: | Heaven Pictures (Beijing) The Movie Co., Ltd. |
| Coproduction: | Blackfin (Beijing) Culture&Media Co., Ltd, China Film (Shanghai) International Media o., Ltd. |
| Cast: | Chen Yongzhong, Xie Lixun, Yu Shixie, Guo Yue |
| Sales: | China Film (Shanghai) International Media Co., Ltd. |