Archive of films

Lullaby to the Sorrowful Mystery / Hele Sa Hiwagang Hapis
Philippines / Singapore
2016, 480 min

Section: Another View
Year: 2016
This eight-hour black-and-white epic by a renowned Philippine auteur is a historical portrait of the Philippines in the late 19th century, a land caught up in a war to end Spanish rule. One of the most distinctive and original artistic films of the year, the work is fascinating for its aesthetics but it is also a historical, philosophical, and social tour de force.

Synopsis
The years 1896-97 were a difficult time for the Philippines. The cruel Spanish colonialists were engaged in a struggle with the local inhabitants that had plunged the land into civil war. Against this historical backdrop, director Lav Diaz explores the lives of several individuals, like the idealistic intellectual Simoun for whom the end justifies the means, and the wife of Andrés Bonifacio, who is looking in vain for her missing husband, an icon of the local resistance and a thorn in the side of the colonial power. Although the film avoids any explicit depiction of the era's greatest horrors, this makes it no less moving. This fascinating sketch of the past compares favorably with the best works of literature in its universal look at issues of morality and of taking individual responsibility for the social consequences of our actions. Shot in an aesthetically refined black-and-white, the film presents a fascinating mosaic that merges mythology, folklore, historical fact, and fiction. The result is a highly personal depiction of the director's native country, its inhabitants and its history.
Hubert Poul
About the director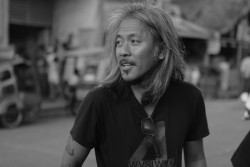 Lav Diaz (1958, Datu Paglas, Philippines) is known in particular for the extreme length of his films. He started out as a musician, a screenwriter for local television, and a poet, and first established himself as a filmmaker in the late 1990s. His best known works include the eight-hour Melancholia (2008), which won the main prize in the Orizzonti section at Venice, and the nine-hour Death in the Land of Encantos (2007). In terms of both style and subject matter, Diaz's films are firmly rooted in Filipino culture. Other characteristic features include a slow rhythm, long black-and-white takes and the absence of music. The result is a very specific aesthetic style that is not subject to the Western concept of time. The Karlovy Vary IFF previously showed one of his first films, Batang West Side (2001) and also Norte, the End of History (2013).
About the film
Black & white, DCP

| | |
| --- | --- |
| Section: | Another View |
| | |
| Director: | Lav Diaz |
| Screenplay: | Lav Diaz |
| Dir. of Photography: | Larry Manda |
| Editor: | Lav Diaz |
| Art Director: | Popo Diaz |
| Producer: | Bianca Balbuena, Paul Soriano |
| Production: | TEN17P, Epicmedia, Sine Olivia Pilipinas |
| Coproduction: | Potocol, Akanga, Film Asia |
| Cast: | John Lloyd Cruz, Piolo Pascual, Hazel Orencio, Alessandra de Rossi, Susan Africa |
| Sales: | Films Boutique |
Guests
Bianca Balbuena
Producer