Archive of films

Quit Staring at My Plate / Ne gledaj mi u pijat
Croatia / Denmark
2016, 105 min

Section: Horizons
Year: 2017
After her despotic father has a stroke Marijana suddenly finds herself head of the family. Her new status gives her the opportunity to taste the kind of freedom she has never known before. But with it comes a burden of a different kind that is surprisingly more difficult to bear. Drawing on the distinctive atmosphere of the Balkans, this social drama about the inner strength of an initially submissive woman was awarded at the Venice IFF.
Synopsis
Marijana is a docile young woman who, until the age of twenty-four, had never even seen the big city. She has spent much of her life running around after her family, yet now, after her father has a stroke, she finds herself in charge. She tries not to be driven insane in their tiny apartment, where she shares a bedroom with her slow-witted older brother and unemployed mother, and where there's no place to hide from the intrusive physical proximity of others. She deals with the increasing psychological pressure by opening up to her own sexuality. This taste of unexplored freedom, however, comes with a liability and necessitates a decision which may be more difficult that she had anticipated. The debuting Croatian director draws on the poetics of small-town peripheries, cramped hideaways, insipid passions – and the desire to escape them – in order to create a realistic vision of the spiritual emancipation of a strong heroine, superbly played by nonprofessional actress Mia Petričević. The filmmaker delicately balances the bleak social aspects with an easy-going commentary on the Balkan mentality, far removed from Kusturica-style vaudeville.

Kamila Dolotina
About the director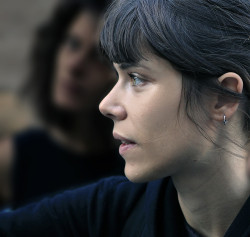 Hana Jušić (b. 1983, Šibenik, Yugoslavia) studied comparative literature and English language and literature at Zagreb University's Faculty of Humanities and Social Sciences. After graduating in film direction from the Academy of Dramatic Art in Zagreb she wrote screenplays for short features and documentaries that enjoyed considerable success abroad; most recent examples include No Wolf Has a House (Da je kuća dobra i vuk bi je imao, 2015), screened at the Rotterdam IFF and at the London Short Film Festival, where it won Best Film. She debuted in features with Quit Staring at My Plate (2016). The film, about the impossibility of escaping the shadow of one's own family, is set in the well-observed environment of her native city and won Best Euro-Mediterranean Film in the Venice Days section of the 73rd Venice IFF.

About the film
Color, DCP

| | |
| --- | --- |
| Section: | Horizons |
| | |
| Director: | Hana Jušić |
| Screenplay: | Hana Jušić |
| Dir. of Photography: | Jana Plećaš |
| Music: | Hrvoje Nikšić |
| Editor: | Jan Klemsche |
| Art Director: | Mathilde Ridder-Nielsen |
| Producer: | Ankica Jurić Tilić |
| Production: | Kinorama |
| Coproduction: | Beofilm |
| Cast: | Mia Petričević, Nikša Butijer, Arijana Čulina, Zlatko Burić |
| Sales: | New Europe Film Sales |
| | |
| www: | www.quitstaringatmyplate.com |
Guests
Hana Jušić
Film Director
Marcin Łuczaj
Sales Agent