France / Germany / Austria
2017, 107 min

Section: Horizons
Year: 2017
In his new film screened in competition at Cannes, two-time Palme d'Or winner Michael Haneke returns to his regular focus on family, and even revisits two characters from his previous main screen offering Amour. While the earlier movie examines the bond between an elderly couple, viewers of Happy End observe the disintegration of a traditional middle-class family against the backdrop of the current refugee crisis.
Synopsis
As befits middle-class families, the Laurents come together each day at the table, but this is the only thing which unites them. From the patriarch and his daughter, down to the two grandsons and great-granddaughter, each has his or her own concerns and the atmosphere isn't helped by the current refugee crisis in Calais, where they live. Mere hints of the stories of the individual characters justify the impression that the family is irrevocably falling apart. Michael Haneke remained faithful to his familial theme and to his cinematic style, which is always a revelation. The first sequences of the film, interwoven with the opening credits, are captured on a mobile phone, auguring the unsettling scenes that document the disintegration of the Laurent family. The filmmaker also returns to characters portrayed by the same actors in his earlier film Amour: Georges, defenceless in old age, is embodied by Jean-Louis Trintignant, while Anne, who strives to maintain a sense of decorum, is again played by Isabelle Huppert. Our attention, however, strays to Eve, representing the youngest generation – a bit confused but surprisingly pragmatic.
Eva Zaoralová
About the director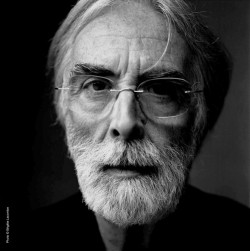 Michael Haneke (b. 1942, Munich) studied philosophy, psychology, and theatre science in Vienna. After a number of made-for-TV movies he shot the trilogy The Seventh Continent (1989), Benny's Video (1992), and 71 Fragments of a Chronology of Chance (1994), in which he analysed the relationship between violence and modern media. His other works are also marked by a certain pessimism towards man and the dark side of his soul; several of his greatest international successes have also been seen by Vary audiences: The Piano Teacher (2001, Grand Prize of the Jury and Best Actor and Actress awards at Cannes), Hidden (2004, Best Director and FIPRESCI Prize at Cannes, European Film Awards for best film, direction, actor and editor), The White Ribbon (2009, Palme d'Or and FIPRESCI Prize at Cannes, EFAs for best film, direction and screenplay) and Amour (2012, Palme d'Or at Cannes, EFA for best film, direction, actors, Oscar for Best Foreign Language Film).
About the film
Color, DCP

| | |
| --- | --- |
| Section: | Horizons |
| | |
| Director: | Michael Haneke |
| Screenplay: | Michael Haneke |
| Dir. of Photography: | Christian Berger |
| Editor: | Monika Willi |
| Art Director: | Anthony Neale |
| Producer: | Margaret Ménégoz, Stefan Arndt, Veit Heiduschka, Michael Katz |
| Production: | Les Films du Losange, X Filme Creative Pool, Wega Film |
| Coproduction: | Arte France Cinéma, France 3 Cinéma, Westdeutscher Rundfunk, Bayerischer Rundfunk, Arte |
| Cast: | Isabelle Huppert, Jean-Louis Trintignant, Mathieu Kassovitz, Fantine Harduin, Franz Rogowski |
| Sales: | Les Films du Losange |
| Distributor: | Aerofilms |
Guests
Ivo Andrle
Distributor