USA
2017, 100 min

Section: Horizons
Year: 2017
Independent filmmakers Josh and Benny Safdie built their hard-edged, over-the-top crime drama on a base of brotherly love: feeling responsible, enterprising Connie tries to get his younger brother Nick out of jail. While co-director Benny Safdie plays Nick with gusto, Robert Pattinson pours charisma into the role of Connie.
Synopsis
Connie talks his beloved brother into robbing a bank, and it would likely have succeeded but for Nick's limited understanding: he alone ends up in the hands of the police. While Connie tries to hunt down bail money to spring Nick, he discovers there are other ways to get his brother out of jail. Thus begins Connie's protracted, nerve-racking search through a New York night reminiscent of Scorsese's Taxi Driver. Independent NYC filmmaking duo Josh and Benny Safdie have constructed their hard-edged, over-the-top crime drama around the theme of brotherly love: mercurial Connie will do whatever it takes to help intellectually-disabled Nick, never once balking at the risks he takes to save him. Impressive, hair-raising scenes of violence alternate with long verbal outbursts by the two-bit denizens of the underworld, and here the fluid grace of Robert Pattinson's blond character Connie commands center stage. For the role of the slow but volatile Nick, co-director Benny Safdie dove in with gusto.
Eva Zaoralová (2012)
About the director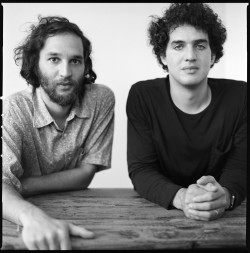 Josh Safdie (b. 1984, New York City) and Benny Safdie (b. 1986, New York City) – brothers, independent New York filmmakers, and actors – grew up in Queens and Manhattan. Inspired and encouraged by their father, a film enthusiast, they began making films in their early days. The pair studied communications at Boston University, cofounding the Red Bucket Films creative collective with Alex Kalman while there. They have cooperated on a variety of film work, including the features Daddy Longlegs (alternate title Go Get Some Rosemary, 2008), Heaven Knows What (2014), and Good Time (2017), the feature-length documentary Lenny Cooke (2013), and a variety of shorts, such as The Adventures of Slater's Friend (2005), The Black Balloon (2012), and Trophy Hunter (2012).
About the film
Color, DCP

| | |
| --- | --- |
| Section: | Horizons |
| | |
| Director: | Benny Safdie, Josh Safdie |
| Screenplay: | Josh Safdie, Ronald Bronstein |
| Dir. of Photography: | Sean Price Williams |
| Music: | Oneohtrix Point Never |
| Editor: | Benny Safdie, Ronald Bronstein |
| Art Director: | Sam Lisenco |
| Producer: | Oscar Boyson, Sebastian Bear-McClard |
| Production: | Elara Pictures, Rhea Films |
| Cast: | Robert Pattinson, Benny Safdie, Jennifer Jason Leigh |
| Sales: | Memento Films International |
| Distributor: | Bohemia Motion Pictures, a.s. |
Guests
Branislav Volák
Distributor, PR & Marketing, Producer, TV Representative