Czech Republic / Slovak Republic
2018, 80 min

Section: Special Events
Year: 2018
Rosťa Novák, the face of Cirk La Putyka, has decided to train for a performance with a Rwandan troupe of acrobats. But can they get on together, two teams that are used to such different work tempos and styles? A unique documentary that takes a peek behind the scenes of the thrilling show Hit, Tell the Difference from Prague's Letní Letná festival.
Synopsis
At first he was afraid to go. Because the plane would crash, he'd die of malaria, or get shot. In the end, however, Rosťa Novák, the face of the Prague ensemble Cirk La Putyka, set out for Rwanda to work on a project with local acrobats. Their leader is Eliseé, who survived the Rwandan genocide as a child and now trains a group comprised of orphaned children. The two troupes begin rehearsing in Rwanda and Prague in order to put together a true circus for the 21st century, one that brings together very disparate backgrounds. But in Michal Varga's documentary, which culminates in a performance at last year's Letní Letná festival, discipline and spontaneity sometimes butt heads. Such a clash, however, can end up shattering preconceived ideas about both Africa and Europe.

Jan Škoda
About the director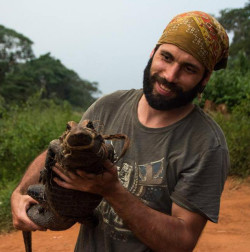 Michal Varga (b. 1981, Ostrava, Czechoslovakia). Selected filmography: Far from Maidan (2014), Nature's Teachers (2014), Heading out for Congo-Brazzaville (2018), Circus Rwanda (2018)
About the film
Color, DCP
World premiere
| | |
| --- | --- |
| Section: | Special Events |
| | |
| Director: | Michal Varga |
| Screenplay: | Michal Varga |
| Dir. of Photography: | Jakub Jelen |
| Editor: | Alexandra Jonášová |
| Producer: | Marek Novák |
| Production: | Xova Film, s.r.o. |
| Coproduction: | nutprodukcia s.r.o., Česká televize, Rozhlas a televízia Slovenska - RTVS |
| Contact: | Xova Film |
Guests
Marek Novák
Producer
Jan Gogola
Film Crew
Michal Sikora
Production Manager
Michal Varga
Director