Archive of films

Mother Schmuckers / Fils de plouc
Belgium
2021, 70 min

Section: Midnight Screenings
Year: 2021
Issachar and Zabulon are brothers from the Brussels suburbs who never picked up much common sense and they're always getting into trouble. When their mother's dog goes missing, they receive an ultimatum: find it within 24 hours or get kicked out of the house.

Synopsis
Brussels as you've never seen it before. Issachar and Zabulon have 24 hours to find their mother's dog, get rid of her repugnant client, help a magician friend, and film the best garage music video of all time. Forget about established movie formats and enjoy this twisted tour of the Belgian capital that is sure to satisfy fans of French comedies and hardcore admirers of John Waters. Consume at your own risk. Not suitable for owners of dogs and other pets. May contain trace amounts of necrophilia.
Nikola Paggio
About the director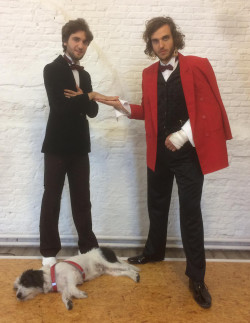 Lenny Guit and Harpo Guit (Paris). Selected filmography: La semaine est encore longue (2015, short), Nathalie F*** You All (Nathalie vous nique tous, 2016, short), La Brigade du Kiff (2018, short), Mother Schmuckers (Fils de plouc, 2021).
About the film
Color, DCP

| | |
| --- | --- |
| Section: | Midnight Screenings |
| | |
| Director: | Lenny Guit, Harpo Guit |
| Screenplay: | Lenny Guit, Harpo Guit |
| Dir. of Photography: | Sylvestre Vannoorenberghe |
| Editor: | Guillaume Lion, Naftule Tarraschuk |
| Art Director: | Jean-Pierre Fargeas |
| Producer: | David Borgeaud, Erika Meda |
| Production: | Roue Libre Production |
| Cast: | Maxi Delmelle, Harpo Guit, Claire Bodson, Mathieu Amalric |
| Sales: | Best Friend Forever |
Guests
Lenny Guit
Film Director
Harpo Guit
Film Director