The feature debut of Australian director Sarah Watt, known for her animated film creations (she won an award at the Venice IFF), is a testimony of complex human relationships. Four characters, whose lives intertwine, have to face unforeseen events and ask themselves whether they still have any right to happiness.
Synopsis
The film, in which acted scenes are combined with animation, unfolds during the course of a single hot Australian weekend. The reporter Nick discovers that he has cancer, and his world starts to fall apart. The artist Meryl, whose imagination awakens in her visions of the misfortunes which could befall her, is on her way back from her father's funeral when she witnesses a tragic railway accident. Nick's colleague Andy, already lamenting over his complicated life situation, finds out that his girlfriend, the nurse Anna, is pregnant… The four characters wrestle with their chaotic lives and with these unexpected events, astonished that the hand of destiny can treat them this way. The protagonists ask themselves whether they deserve such punishment or whether they still have any right to happiness. Their journeys intersect, their stories interweave and thus co-create a compelling image which has both intimate yet universal legitimacy.
About the director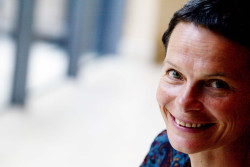 Sarah Watt, an Australian director living with her family in Melbourne, is an artist with a broad palette of professional interests. She has worked as a screenwriter, director and producer of animated films for the last fifteen years. She made an international name for herself with the film Small Treasures (1995), which won a Baby Lion for Best Short at the Venice IFF. Of her other animated films we could mention Local Dive (1998), Way of Birds (2000) and Living with Happiness (2001), which were also screened at various festivals and won awards both at home and abroad. The film Look Both Ways is the director's feature debut.
About the film
Color, 35 mm

| | |
| --- | --- |
| Section: | Another View |
| | |
| Director: | Sarah Watt |
| Screenplay: | Sarah Watt |
| Dir. of Photography: | Ray Argall |
| Music: | Amanda Brown |
| Editor: | Denise Haratzis |
| Producer: | Bridget Ikin |
| Production: | Hibiscus Film |
| Cast: | William McInnes, Justine Clarke, Anthony Hayes, Lisa Flanagan, Andrew S. Gilbert |
| Contact: | Fortissimo Films |