"The crucial moment in a man's life is the discovery that his sons are more important for him than his parents". (F.Truffaut). A film about love spanning three generations: the love of fathers, children, and the children's children, made by an Argentine director considered the "Latin-American cousin of Woody Allen".
Synopsis
Ariel Perelman is a lawyer like his dad. But there is one huge difference between them. While his father represents a colourful array of criminals, Ariel has more to do with ghosts… In other words, he works for a legal department which represents its clients in their absence, so his life is rather dull. Then things start to change for the better. Ariel marries a beautiful woman who had previously seemed unattainable. He has a child with her and his self-confidence starts to grow. In the middle of all these changes, his father comes to him with an urgent matter. Ariel has to make a decision which will alter his life completely. Will he finally be able to stand on his own two feet, or will he remain forever in his old father's shadow?
About the director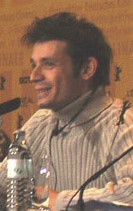 Daniel Burman (b. 1973, Buenos Aires) debuted in Berlin with the story of love and revenge A Chrysanthemum Bursts in Cincoesquinas (Un cristantemo estalla en cinco esquinas, 1997). In the film Waiting for the Messiah (Esperando al Mesías, 2000) he began examining the theme of identity in the tale of a young Jew fumbling his way through a hostile social environment. Himself of Polish-Jewish origin, he painted a portrait of his community in Buenos Aires in the documentary Seven Days in Once. This was followed by the successful love story Every Stewardess Goes to Heaven (Todas las azafatas van al cielo, 2002). He returned to the theme of identity in Lost Embrace (Abrazo partido, 2003), the story of a teenager suffering the absence of his father. In Berlin the film won two Silver Bear awards (Jury Grand Prix and Best Actor). His most recent films are 18-J (2004) and Family Law (2006).
About the film
Color, 35 mm

| | |
| --- | --- |
| Section: | Horizons |
| | |
| Director: | Daniel Burman |
| Screenplay: | Daniel Burman |
| Dir. of Photography: | Ramiro Civita |
| Music: | Cesar Lerner |
| Editor: | Alejandro Parysow |
| Producer: | Diego Dubcovsky |
| Production: | BDCine |
| Cast: | Daniel Hendler, Arturo Goetz, Eloy Burman, Julieta Díaz |
| Contact: | Celluloid Dreams |