Who's that strange young man sitting hunched up in a bus full of football fans heading for a match? For a start, it's not a boy, but a girl in disguise. In Iran, women aren't allowed into sports stadiums... The heroine of Jafar Panahi's sports tragicomedy isn't the only Iranian girl who'd like to see how this top league game turns out, and who almost ends up in prison.
Synopsis
Who is the strange boy hunched in the corner of a bus full of noisy fans heading for a football match? First and foremost, it isn't a boy, but a girl in disguise, since in Iran women are not allowed into sports stadiums. But the heroine of Jafar Panahi's sport tragicomedy is not the only Iranian girl who would like to see the World Cup qualifier match between Iran and Bahrain. Nor is she the only Iranian woman who tries to sneak her way in among the spectators and is caught and arrested...While this is chiefly a story about a young woman, and not about a political activist, Panahi's film echoes the struggle for the fundamental rights of women in Iranian society with its oppressive religious ethos. Although Panahi has often chosen women as protagonists for his earlier films, he has never before approached them with such freedom and spontaneity as he does here. The atmosphere of the football stadium inspired him to what is virtually a documentary view of reality (in which a hand-held digital camera plays an important part as well as non-professional actresses in the main roles). This gives freshness and power to a story that in reality would have few elements of comedy.
About the director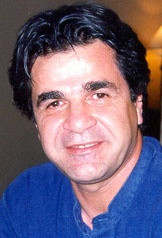 Jafar Panahi (b. 1960, Mianeh, Iran) grew up under the influence of the films of A. Kiarostami. He studied film and TV direction and started out as a TV documentary maker. He also gained experience as an assistant director to K. Partovi. His first short feature The Friend (1992) is a tribute to Kiarostami, who took him on as an assistant in his crew for the film Under the Olive Trees (1994) and enabled him to make his successful debut feature The White Balloon (1995), which brought Panahi a series of international awards including the Camera d'Or at Cannes. His talent was confirmed by the film The Mirror (1997 – Golden Leopard at Locarno). In 1997 he made the video-documentary Ardekoul (1997). This was followed by the highly regarded films The Circle (2000 – Golden Lion at Venice 2000), Crimson Gold (2003) – Un certain regard section – Jury Prize at Cannes, and Offside (2006). He was a member of the Jury at the Karlovy Vary IFF in 2001.
About the film
Color, 35 mm

| | |
| --- | --- |
| Section: | Horizons |
| | |
| Director: | Jafar Panahi |
| Screenplay: | Jafar Panahi |
| Dir. of Photography: | Mahmood Kalari |
| Music: | Korosh Bozorgpour |
| Editor: | Jafar Panahi |
| Producer: | Jafar Panahi |
| Production: | Jafar Panahi, Khiyabane Fereshteh |
| Cast: | Sima Mobarak Shahi, Safar Samandar, Shayesteh Irani |
| Contact: | Celluloid Dreams |