Archive of films

Wedding Director / Il regista di matrimoni
The road to self-fulfilment can take many forms, as successful director Franco Elica discovers when, on the Sicilian coast, where he seeks refuge from his problems, he meets a "colleague" who earns a living filming weddings. He is even more surprised when another colleague, whose death he has recently read about in the papers, tells him that he simply wanted to receive the kind of posthumous glory which was denied him during his lifetime. When Franco is then asked by the resident prince to film his daughter's wedding, he recognises the hand of fate.
Synopsis
Director Franco Elica can't accept the fact that his daughter is marrying a bigoted Catholic. Worse still is the fact that he has to film what is now the 100th adaptation of Alessandro Manzoni's The Betrothed, and so he escapes from Rome to find refuge in a sheltered spot on the coast of Sicily. There he meets three unusual people: a man who earns a living filming weddings, an aging film director who faked his own death so that he could enjoy the admiration denied him while he was "still alive", and an impoverished duke, who places his hopes in his daughter's advantageous marriage. The latter asks Franco if he could film his daughter's wedding; half in jest, half out of curiosity, Franco agrees. However, things start to develop quite differently than either of the men had imagined. "For me, film is always created from some kind of image. I got the idea for this story when I once saw a wedding being filmed in Calabria, and I was surprised at the professionalism of the bride and groom: they obeyed the "director's" every instruction, like real actors," says Marco Bellocchio. As many times in the past, in this film as well, he often obscures the border between reality and dreams.
About the director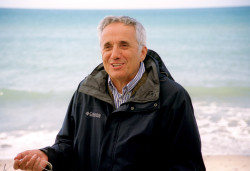 Marco Bellocchio (b. 1939, Piacenza, Italy) studied film in Rome (Centro Sperimentale di Cinematografia) and London (Slade School of Fine Arts). His feature debut Fists in the Pocket (1965) was remarkable for its mature psychological study of the members of a disintegrating bourgeois family. The film also betrayed a socio-critical tone, typical for the then upcoming generation of Italian filmmakers, essentially "angry young men" with strong left-wing convictions. Many of his subsequent films also showed his commitment to the social problems of the time: China Is Near (1967), Strike the Monster on Page One (1972), Victory March (1975), The Eyes, The Mouth (1982). He remains faithful to the spirit of committed testimony in his most recent films Good Morning, Night (2003 – screened at the KV IFF in the Horizons section in 2004) and The Wedding Director, screened at Cannes IFF this year.
About the film
Color, 35 mm

| | |
| --- | --- |
| Section: | Horizons |
| | |
| Director: | Marco Bellocchio |
| Screenplay: | Marco Bellocchio |
| Dir. of Photography: | Pasquale Mari |
| Music: | Riccardo Giagni |
| Editor: | Francesca Calvelli |
| Producer: | Marco Bellocchio, Luciano Martino, Massimo Vigliar |
| Production: | Filmalbatros, Rai Cinema, Dania Film, Surf Film |
| Cast: | Sergio Castellitto, Donatella Finocchiaro, Sami Frey, Gianni Cavina |
| Contact: | Celluloid Dreams |