This film by the renowned Turkish director, awarded the FIPRESCI prize at this year's Cannes film festival, is a compelling study of human relationships, selfishness and emotional emptiness. Ceylan expresses the inner drama and anxiety of his characters with minimalist austerity.
Synopsis
Isa and Bahar have gone away on holiday together, but they aren't speaking to each other much and it is obvious that their relationship is falling apart. With inexpressible pain, Bahar senses that Isa is unable to reciprocate her love. When Isa speaks openly about their inability to communicate, the couple break up for good. Bahar, desolate, returns to Istanbul alone. Isa leaves the resort himself a few days later, but he isn't capable of being on his own for long and soon looks up Serap, the partner of an old friend of his. However, the selfish Isa would never be able to maintain a more profound relationship with anyone – either as a friend or lover. He discovers from Serap, with whom he had an affair even when he was still seeing Bahar, that Bahar has left to work in the east of the country. Isa's need to suppress his inner emptiness and emotional sterility compels him to go in search of her. He tries to win her back, insisting that he really has changed.
About the director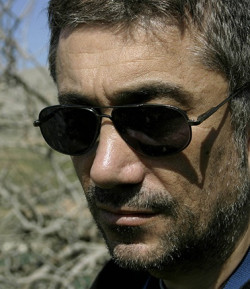 Nuri Bilge Ceylan (b. 1959, Istanbul) first gained a degree from the Faculty of Electrical Engineering in Bogaziçi, and then studied film for two years at Mimar Sinan University. His first short film Cocoon (Koza) appeared in 1995 which started him off on a successful career: the film was screened at Cannes. His feature debut The Small Town (Kasaba, 1997), which was also screened at the KV IFF in 1998, and his second feature Clouds of May (Mayis sikintisi, 2000), won many awards at domestic and international film festivals. The film Distant (Uzak, 2002), which won the Grand Prix at Cannes in 2003 and was screened at Karlovy Vary a year later, completes this "quest" trilogy. In this work, Nuri Bilge Ceylan demonstrates that he is able to develop a compelling story irrespective of its external environment.
About the film
Color, 35 mm

| | |
| --- | --- |
| Section: | Horizons |
| | |
| Director: | Nuri Bilge Ceylan |
| Screenplay: | Nuri Bilge Ceylan |
| Dir. of Photography: | Gökhan Tiryaki |
| Editor: | Ayhan Ergürsel, Nuri Bilge Ceylan |
| Producer: | Zeynep Özbatur |
| Production: | Co Production Ltd., Pyramide Films, NBC Film, Imaj |
| Cast: | Ebru Ceylan, Nuri Bilge Ceylan, Nazan Kesal |
| Contact: | Co Production Ltd. |
| | |
| www: | www.climatesmovie.com |