Ever since their childhood, Talia had tried to convince her blind cousin Ya'ra that, in spite of her blindness, she sees more than those around her. In her sorrow, the ever sceptical Ya'ra is finally convinced of this when she uncovers the motivation behind Talia's seemingly inexplicable suicide.
Synopsis
In this psychological film, whose mysteries are gradually uncovered as the plot unfolds, the heroines are two girls, cousins Ya'ra and Talia, who grew up together. In fact, there is only one heroine, the blind Ya'ra; we discover in the first few shots that Talia has committed suicide, the motivation for which is unknown. Ya'ra is studying in America and is now returning home not only to attend the funeral but also to observe a seven-day period of mourning, along with the rest of the family. Stunned by the loss of the person closest to her, and also thanks to important information she acquires by chance, she begins to uncover mysterious, dark places in her reminiscences of the happy times spent with Talia and their carefree childhood. Not even painful premonitions deter her from her investigation, and in the end it is she, a blind girl, who finds the reason for the girl's desperate act.
About the director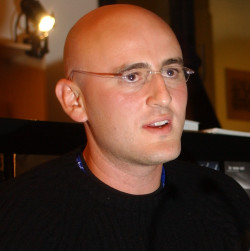 Daniel Syrkin (b. 1971, Moscow) studied at the Tel Aviv Film School, then worked for television, where he directed programmes of varying genre, from documentaries to comedies and drama series. The 11-minute film And Now Rachmaninov won an award at the Turin international festival in 1997; it won Best Short Feature Film in Israel a year later. Syrkin is also a film journalist, specialising in interviews with film stars (Harrison Ford, Richard Gere, Sophia Loren, Angelina Jolie). The film Out of Sight is his distribution feature film debut.
Contacts
United King Films
34 Alenby St., 633 25, Tel Aviv
Israel
Tel: +972 3 517 7101
Fax: +972 3 510 3311
E-mail: [email protected]

About the film
Color, 35 mm

| | |
| --- | --- |
| Section: | Another View |
| | |
| Director: | Daniel Syrkin |
| Screenplay: | Noa Greenberg |
| Dir. of Photography: | Giora Bejach |
| Music: | Rafi Kadishson |
| Editor: | Boaz Lion |
| Producer: | Mirit Toovi, Yoram Mandel, Ayelet Imberman |
| Production: | JCS Productions |
| Cast: | Tali Sharon, Israel Poliakov, Avigail Harari, Hadas Yaron, Sandra Sade |
| Contact: | United King Films |