Archive of films

Views of a Retired Night Porter / Views of a Retired Night Porter
Austria
2006, 30 min

Section: Documentary Films - Competition
Year: 2006
In the documentary film Views of a Retired Night Porter (1977) Krzysztof Kieslowski introduced audiences to a factory worker whose life aim was to subject his colleagues to thorough scrutiny. The Austrian filmmaker now presents a mini-portrait of this man thirty years later, in a bitterly poetic swan song of the previous regime and one of its devoted adherents.
Synopsis
In his documentary film Night Porter's Point of View (1977), Krzysztof Kieslowski introduced audiences to the "watchdog" of the Communist regime, whose guiding life principle was to subject factory employees to thorough scrutiny. Almost thirty years later, the Austrian filmmaker Andreas Horvath profiles this man once again, whose views, despite the different political situation, haven't changed. Horvath's film is a bitterly poetic swan song of the somewhat unsettling old days, and of one of the period's devoted adherents.
About the director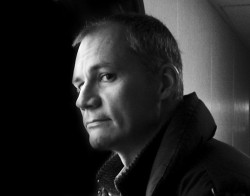 Andreas Horvath (b. 1968, Salzburg, Austria) is a photographer, film director and author of a book of photographs on the American Midwest (1993) and the Siberian city of Yakutsk (2003). Select filmography: Clearance (1989), Poroerotus (1999), The Silence of Green (2002). For the film This Ain't No Heartland (2004) he won several awards, including the Main Prize at the 2nd International Documentary Film Festival in Chicago.
About the film
Color, DIGIBETA

| | |
| --- | --- |
| Section: | Documentary Films - Competition |
| | |
| Director: | Andreas Horvath |
| Screenplay: | Andreas Horvath |
| Dir. of Photography: | Andreas Horvath |
| Music: | Marek Grechuta |
| Editor: | Andreas Horvath |
| Producer: | Andreas Horvath |
| Contact: | Andreas Horvath |
Guests
Andreas Horvath
Film Director / Producer