Archive of films

Ahimsa Stop To Run / Ahingsa Jiggo Mee Kum
What if a teenager sees things the rest of the world no longer sees? Is he insane or is the world becoming blind? A Buddhist thriller.
Synopsis
Teenager Ahimsa has lived a restless life filled with drugs and crazy buddies. Pattaya is a girl who has grown up in a well-to-do family. She is a distinguished doctor with a policeman boyfriend and her life is perhaps too perfect. All of a sudden, Ahimsa starts to have visions of the future and finds himself shadowed by the infuriating Karma, who has dyed red hair, wears Nike shoes and a red tracksuit! Then he meets Pattaya, who tries to uncover the secret of his mysterious foresight without knowing that she is part of it. What did Ahimsa foresee? Karma? Love? Or both? A Buddhist thriller.
About the director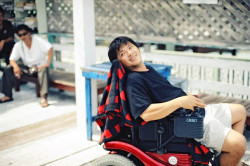 Kittikorn Liawsirikun (Leo) has directed five feature films to date: 18-80 Buddy (1999), Miracle Ome-Somwang (1999), Goal Club (2001), Saving Private Tootsie (2002) and Ahimsa Stop to Run (2005).
Contacts
RS Public Company Limited
, 10900, Bangkok
Thailand
Tel: +66 2 511 0555
Fax: +66 2 511 5325
E-mail: [email protected]

About the film
Color, 35 mm
European premiere
| | |
| --- | --- |
| Section: | Forum of Independents - Competition |
| | |
| Director: | Kittikorn Liawsirikun |
| Screenplay: | Kittikorn Liawsirikun |
| Dir. of Photography: | Nuttawut Kittkun |
| Music: | Zansab |
| Editor: | Kittikorn Liawsirikun |
| Producer: | Rashane Limtrakul, Jantima Liawsirikun |
| Production: | RS Public Company Limited |
| Cast: | Boriwat Youto, Teeradanai Suwanahom, Tharanya Suttabusya |
| Contact: | RS Public Company Limited |