Archive of films

Along the Ridge / Anche libero va bene
In his directorial debut, successful Italian actor Kim Rossi Stuart tells the story of a strange, incomplete family: Renato (played by Rossi Stuart himself) tries as best he can to fill the gap left by the mother of his two children. He, himself, is struggling with existential problems and thus sometimes places almost excessive demands on his son. The situation comes to a head with the unexpected return of the mother, who had already abandoned them several times in the past. Will she remain true to her word? Unlike his sister, 11-year-old Tommi doesn't believe her and retreats to his dream of being able to play football.
Synopsis
Eleven-year-old Tommi lives with his sister and father, who is making every effort to ensure that the children do not miss their absent mother. Renato has money problems and is sometimes too disciplinarian with his children, especially his son, but the family is getting along reasonably well until the sudden return of his wife, Stefania. She is all penitence and promises that she will never leave her children again. Viola receives her mother with open arms, but Renato and above all Tommi are rightly more cautious. The equilibrium of the family is undermined, and when Tommi finds that even his father is not the unshakeable pillar of support he believed him to be, his ideas about life start to collapse. The directorial debut of successful actor Kim Rossi Stuart (seen, for example, in Antonioni's and  Wenders' film Beyond the Clouds – 1995) was chosen for the programme of the parallel section Directors' Fortnight at this year's Cannes Festival and won the C.I.C.A.E. Award. The role of the mother Stefania is played by the Slovak-born Barbora Bobulová, who has made a name as a leading Italian film actress. She has worked with Marco Bellocchio, Michele Placido and Ferzan Ozpetek.
About the director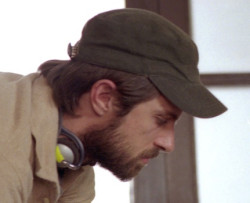 Kim Rossi Stuart (b. 1969, Rome) appeared while still a child in Mauro Bolognini's film Fatti di gente per bene (1974). His looks predestined him to the role of romantic young man, which he successfully played in films by Franco Brusati, Alessandro d'Alatri, Peter Del Monte, Michelangelo Antonioni and Wim Wenders (Beyond the Clouds, 1995) His most recent role was in Michele Placido's Crime Novel (Romanzo criminale), screened in competition at the Berlinale in 2006. He co-wrote his directorial debut Along the Ridge and appears in it as the father.
About the film
Color, 35 mm

| | |
| --- | --- |
| Section: | Another View |
| | |
| Director: | Kim Rossi Stuart |
| Screenplay: | Linda Ferri, Federico Starnone, Francesco Giammusso, Kim Rossi Stuart |
| Dir. of Photography: | Stefano Falivene |
| Music: | Banda Osiris |
| Editor: | Marco Spoletini |
| Producer: | Carlo Degli Esposti |
| Production: | Palomar |
| Cast: | Alessandro Morace, Barbora Bobulova, Kim Rossi Stuart, Marta Nobili |
| Contact: | Adriana Chiesa Enterprises |