Tribute to Eva Zaoralová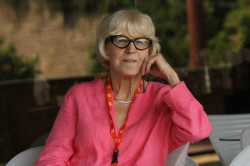 Eva Zaoralová

(1932–2022)
"I remember the Trevi Fountain even before Fellini made La dolce vita. Karel, I tell you, it was such a serene place…"
The first lady of the Karlovy Vary festival, the first lady of Czech film criticism, the first lady of Czech cinema – all these epithets appeared across the news media straight after the unhappy day that was the 10th of March this year, when Dr Eva Zaoralová passed away. She was a lady in all the above senses, and many more besides. With her innate humility and distrustful attitude towards all things pompous, she would probably have swiftly rejected any absolute characterisations of this type; nevertheless, those who knew "Mrs Doctor" were well aware of whom such epithets strove to define: A highly educated woman with an impressive and broad outlook on various spheres of civic endeavour, above all, culture and politics. A lover of film who became aware of the mesmeric power of the cinematic experience at the age of twenty, and remained so some sixty years later. A charismatic commentator upon the frequent ineptitudes of human enterprise, unsparing in her application of irony, but also in the compassion she showed. The head of the programming team for the Karlovy Vary festival, as demanding with respect to herself as she was to others. One of the most inspiring people I have ever met.
From 1968 to 2020 (yes, a period of more than fifty years) she played an active role in the running of the legendary, specialist magazine Film and Time, during its heyday, its survival, and, ultimately, its return as a respected journal. In the years 1994–2010, in addition to her journalistic work, she took on the extensive duties of Artistic Director of the Karlovy Vary IFF and, together with festival President Jiří Bartoška, assisted in cementing its status as one of the most reputable events of its kind on the Old Continent. Through the sheer strength of her personality, she secured – for a further ten years as artistic consultant – a peaceful working environment for all of us who, as time passed, looked up to her and considered it a rare honour to be able to hold fervent discussions with her about films and other important matters.
"[…] Every existing thing is here for a purpose. […] The Almighty God, He knows everything. When you are born, when you die, who knows what else. I don't know what it's good for, but it must be good for something. Or everything would be meaningless. Even the stars," says The Fool (Il Matto) in Federico Fellini's The Road, a film which accompanied Dr Zaoralová her whole life as a much-cherished example of the absolute unity of a humble humanity and a sublime artistic vision of the world around us. A film whose special screening will serve as a reminder of what Dr Eva Zaoralová meant – and will always mean – to us all.
Karel Och
The Road Silnice / La Strada

Directed by:

Federico Fellini

Italy, 1954, 108 min

The Road, which brought worldwide fame to Federico Fellini (represented by an Academy Award and dozens of other prizes), is today familiar to almost everyone interested in the art of film. Centering on hapless Gelsomina, brutish Zampanò, and the scornful Il Matto (The Fool), the film still touches the heartstrings, impresses with its aesthetic beauty and powerful performances, and provokes a variety of interpretations.