Archive of films

Postcards from Leningrad / Postales de Leningrado
Venezuela / Peru
2007, 90 min

Section: Another View
Year: 2008
She was born on Mother's Day surrounded by the media, but not even the journalists knew her real name. She had to bide her time before she could reveal her identity and much more besides… A stirring portrait of the guerrilla way of life, told through the eyes of a child.
Synopsis
Venezuela, 1966. A young member of the guerrilla movement has to give birth in secret but, to her surprise, her daughter is the first child born on Mother's Day and their photograph ends up in the papers. From that moment on, mother and daughter become fugitives… The beginning of a dramatic childhood among guerrillas. Disguises, hideaways and false names: the brutal reality of adults and children alike, all with their fantasies, dreams and desires. This is what childhood is like for the girl and her cousin Teo who live in the labyrinth of their imagination and think up stories of superheroes while waiting impatiently for their mums and dads to return from the mountains. But children's games cannot draw attention away from all-pervading death, from the torture and the betrayals of guerrilla life, where childhood means waiting for parents or for postcards which only serve to mask the futility of this wait.
About the director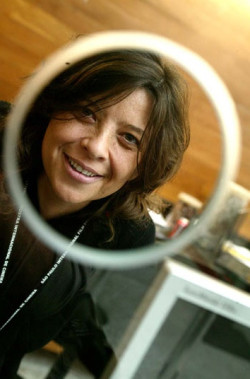 Mariana Rondón (b. 1966, Caracas) studied film animation in Paris and joined the first generation of students at Cuba's EICTV in 1986, where she directed short films such as Eggshells (Cáscaras) and Something Falling into Silence (Algo caía en el silencio). In 1991 she established the production company Sudaca Films, which she heads to this day. For her short film Street 22 (Calle 22, 1994) she won 22 international awards (e.g. Biarritz, Huelva, New York). She was screenwriter, director and producer of her feature debut At Midnight and a Half (A la media noche y media, 1999 , co-dir. Marite Ugás), screened at 40 international festivals and awarded a number of prizes. She worked in the same disciplines for her second film Postcards from Leningrad (2007). She has also earned recognition with her exhibitions of contemporary modern art.
About the film
Color, 35 mm
European premiere
| | |
| --- | --- |
| Section: | Another View |
| | |
| Director: | Mariana Rondón |
| Screenplay: | Mariana Rondón |
| Dir. of Photography: | Micaela Cajahuaringa |
| Music: | Felipe Perez Santiago, Camilo Froideval |
| Editor: | Marite Ugás |
| Producer: | Marite Ugás |
| Production: | Sudaca Films |
| Cast: | Laureano Olivares, Greisy Mena, William Cifuentes |
| Contact: | Sudaca Films |
| | |
| www: | www.postalesdeleningrado.com |
Guests
Marite Ugás
Producer
Mariana Rondón
Film Director, Film Director