Archive of films

Origin of the Species / Origin of the Species
S. lives in the hinterlands where he constructs strange contraptions, but his particular perspective can change or at least influence our vision of the world. A gripping essay built upon the insights and personal environment of a person whom our society ignores or even belittles.
Synopsis
This cinematic essay, addressing basic questions of the miracle of life on Earth, takes us from cosmic spectacles to spiderwebs and moss, and on to the dwelling of hermit and autodidact S., who spends his time constructing contraptions of all kinds. These help him survive in his voluntary isolation, while his eccentricity may illuminate for us a perspective on existence itself from rather unexpected angles. The movie unfolds in a highly conciliatory tone as it returns the spark to simple and, today, overlooked issues, and shows that mystery can sometimes reveal itself in the mere changing of the seasons.
About the film
Color, 16 mm

| | |
| --- | --- |
| Section: | Tribute to Ben Rivers |
| | |
| Director: | Ben Rivers |
| Screenplay: | Ben Rivers |
| Dir. of Photography: | Ben Rivers |
| Editor: | Ben Rivers |
| Producer: | Ben Rivers |
| Contact: | LUX |
Guests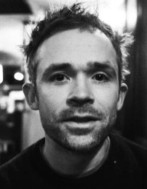 Ben Rivers
Film Director