Ukraine
2014, 130 min

Section: People Next Door
Year: 2018
Sergei is the new kid at a boarding school for deaf-mute children. During the course of his harrowing initiation he endeavours to experience love in spite of the emotion-deprived world around him. This icy debut, which employs the untraditional medium of sign language, needs not a single word to convey the full, devastating picture of how human society works – a fact also reflected in the film's array of coveted awards.
Synopsis
Sergei starts at a boarding school for deaf-mute children where he gets first-hand experience of life according to a greater law. His romantic association with Anya suffers unforgiving, seismic upheaval in an emotion-deprived world of animal instincts, where love is traded for lust, compassion for misjudgment, and morality for weakness. Shot in an authentic community and using only sign language, the film deliberately surrenders the opportunity to convey this bleak teenage drama in words. Instead, the debuting director, supported by brilliant newcomer Valentyn Vasyanovych behind the camera, has created a film idiom founded on predatory and, at the same time, surgically precise, choreographed performances tinged with menacing undertones.
Kamila Dolotina
About the director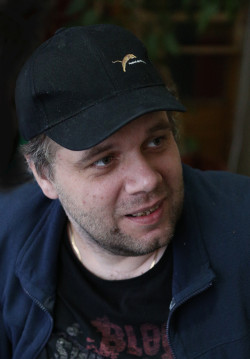 Myroslav Slaboshpytskiy (b. 1974, Kiev, Ukraine, USSR). Filmography: Diagnosis (Diagnoz, 2009, short), Nuclear Waste (Yaderny otkhody, 2014, short), Deafness (Glukhota, 2010, short), The Tribe (Plemya, 2014)

About the film
Color, DCP

| | |
| --- | --- |
| Section: | People Next Door |
| | |
| Director: | Myroslav Slaboshpytskiy |
| Screenplay: | Myroslav Slaboshpyckiy |
| Dir. of Photography: | Valentyn Vasyanovych |
| Editor: | Valentyn Vasyanovych |
| Producer: | Valentyn Vasyanovych, Iya Myslytska |
| Production: | Garmata Film Production |
| Cast: | Grigoriy Fesenko, Yana Novikova, Rosa Babiy, Alexander Dsiadevich, Yaroslav Biletskiy |
| Sales: | Alpha Violet |
| Distributor: | Film Europe s.r.o. |