Works in Progress 2023
At this event, producers and directors from the countries of Central and Eastern Europe, the Balkans, the former Soviet Union, the Middle East and North Africa will introduce
new films that will premiere after the Karlovy Vary IFF.
Focus of the section
In 2021, we have decided to merge fiction and documentary films as we consider both categories, despite their differences, to possess the same artistic value. Works in Progress 2023 will therefore continue to incorporate documentaries and all the selected projects will be up for the same awards. Thus, Docs in Progress came to an end as a separate industry presentation.
Submissions for Works in Progress 2023 are now closed.
Producers have up to 15 minutes to present each project, including excerpts from the film. Following a panel discussion, we assist interested visitors of the Works in Progress programme to set up individual meetings with the presenters to get more information about their projects.
The deadline for submissions is Thursday, May 4, 2023.
The selected projects will be presented on Monday, July 3, 2023.

Ten films coming from the following countries will be presented:
Afghanistan, Albania, Algeria, Armenia, Azerbaijan, Bahrain, Belarus, Bosnia and Herzegovina, Bulgaria, Croatia, Cyprus, Czech Republic, Egypt, Estonia, Georgia, Greece, Hungary, Iran, Iraq, Israel, Jordan, Kazakhstan, Kosovo, Kuwait, Kyrgyzstan, Latvia, Lebanon, Libya, Lithuania, Macedonia, Malta, Montenegro, Moldavia, Morocco, Oman, Palestine, Poland, Qatar, Romania, Saudi Arabia, Serbia, Slovakia, Slovenia, Syria, Tajikistan, Tunisia, Turkey, Turkmenistan, Ukraine, the United Arab Emirates, Uzbekistan and Yemen.
Works in Progress 2023 presents the Post-production Development Award
Following the last years' editions of Works in Progress, its sponsors continue aiming to promote Czech Republic as a destination for film production and post-production. The most promising project will be awarded the post-production services package that will allow the producers to finish the film.
Picture post-production at UPP:
8 days of colour grading
2 days of online from camera original files
Production of all video outputs required for audio production in Soundsquare company
Animation of end credits
Final master production including laying back sound delivered by Soundsquare company
Audio postproduction at Soundsquare:
12 days of mixing in 5.1 or 7.1 format
1 day of down-mixing for TV use (5.1 or 2.0 in EBU R128 standard)
Creation of final mix masters for DCP and TV production
Digital delivery of final sound masters to UPP
TERMS AND CONDITIONS:
The in-kind services by UPP and Soundsquare can only be used for the completion of the awarded project within a period of one year. It will not be possible to claim these services for a different project or to expect completion after June 2024. Requests for different types of postproduction services will be considered individually, but cannot be granted. Awarded in-kind services listed above that are not claimed cannot be interchanged or replaced. Our partners have the right to demand a specific quality level of the film material that is needed before services can be offered.
KVIFF and Partners reserve the right to change or alter these conditions in cases of any unforeseen circumstances.
More info about our partners www.upp.cz, www.soundsquare.cz
TRT Award Works in Progress 2023
One of the projects of Works in Progress 2023 will receive 5 000 eur cash award The award will be designated by the jury regardless of the project's post-production needs.
The award is sponsored by TRT.
Barrandov Studio Award Works in Progress 2023
One of the projects of Works in Progress 2023 will receive 5 000 eur cash award. The award will be designated by the jury regardless of the project's post-production needs.
The award is sponsored by Barrandov Studio.
Do you want to participate in Works in Progress 2023?
Producers and directors interested in having their film included in Works in Progress 2023 must apply by no later than May 4, 2023.
Your film must meet the following requirements:
the film must be in late stage of production (only in case of documentaries), post-production or just finished and must have a planned premiere after the Karlovy Vary IFF
the film must be over 60 minutes in length
the film must not yet have an international sales agent
the project must not yet have been presented in a similar event (but it might have participated in training programmes or at pitchings etc.)
chosen participants will provide three film excerpts: the first 5 minutes of the film and two scenes of own choice of max. 2,5 minutes each with English subtitles that will be included in the presentation
selected projects must submit excerpts which will be presented in Karlovy Vary in the required format via an online storage site by no later than June 8, 2023
To entry your project, please fill the submission form and attach these materials:
a link (YouTube or Vimeo) to the first 5 minutes of the film
a link (YouTube or Vimeo) to a continuous rough-cut footage of max. 20 minutes
Excerpts provided with English subtitles insert as a link (YouTube or Vimeo) straight into the Submission form. Each excerpt should be a continuous cut, we do not accept trailers.
Please submit your film as soon as possible. The KVIFF selection committee will announce its decision in the beginning of June. If your film is selected, you will receive detailed information about the presentation and about your stay at the festival.
Previous Works in Progress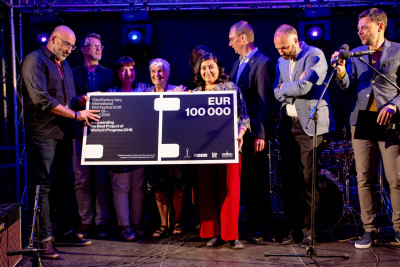 Previous Docs in Progress