Slovak Republic / Czech Republic
2015, 75 min

Section: Official Selection - Out of Competition
Year: 2015
A para-documentary road movie by Ivan Ostrochovský about a former boxer who puts on the gloves one final time to earn the money for his girlfriend's abortion.
Synopsis
Peter "Koza" Baláž once boxed at the Olympics. Today he lives in a Romany ghetto in Eastern Europe. When his girlfriend Miša discovers she's pregnant, Koza is happy at the prospect of a child. But Miša already has a daughter and now she wants to have an abortion. Koza needs to get hold of some money and his only chance is by returning to the ring, even after so many years. So he sets out on a relentless fighting tour with his manager Zvonko, who is more concerned about himself than with naïve Koza's success or welfare. Documentarist Ivan Ostrochovský first shot a short documentary about Koza but when the boxer expressed an interest in getting paid he decided to expand the project into his feature debut. The film is exceptional for the credible performance of its nonactors, which include Koza and another Olympic boxer, Ján Franek. The script dispenses with social stereotypes, balancing the story with long shots of the inhospitable winter landscape in which the protagonists contend for their place in the sun. The film premiered at the Berlinale.
Šimon Šafránek
About the director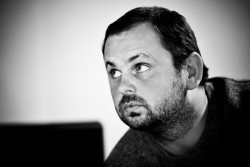 Ivan Ostrochovský (b. 1972, Žilina, Czechoslovakia) graduated from the department of audiovisual studies and documentary filmmaking at Bratislava's Academy of Performing Arts. His documentary work includes Lesser Evil (2004) and Ilja (2009). He codirected his feature-length documentary debut Velvet Terrorists, which screened at the Karlovy Vary IFF, winning the FEDEORA Award; at the festival in Berlin it received the Tagesspiegel Readers' Prize. Ostrochovský coproduced the films Matchmaking Mayor (Nesvatbov, 2010, dir. Erika Hníková) and Made in Ash (Až do mesta Aš, 2010, dir. Iveta Grófová). Koza is his first dramatic feature.
Contacts
Pluto Film
Schliemann Strasse 5, 10437, Berlin
Germany
Tel: +49 030 219 182 20
E-mail: [email protected]
www: www.plutofilm.de

Asociace českých filmových klubů
Stonky 860, 686 01, Uherské Hradiště
Czech Republic
Tel: +420 572 501 989
Fax: +420 572 501 400
E-mail: [email protected]
www: www.acfk.cz

About the film
Color, DCP

| | |
| --- | --- |
| Section: | Official Selection - Out of Competition |
| | |
| Director: | Ivan Ostrochovský |
| Screenplay: | Marek Leščák, Ivan Ostrochovský |
| Dir. of Photography: | Martin Kollár |
| Editor: | Viera Čákanyová, Maroš Šlapeta, Matej Beneš, Peter Morávek |
| Producer: | Marek Urban, Ivan Ostrochovský, Jiří Konečný |
| Production: | sentimentalfilm, endorfilm |
| Coproduction: | Česká televize, Rozhlas a televízia Slovenska, Punkchart films |
| Cast: | Peter Baláž, Zvonko Lakčević, Ján Franek |
| Sales: | Pluto Film |
| Distributor: | Asociace českých filmových klubů |
Guests
Ivan Ostrochovský
Patricie Frehse
Sales Agent
Jan Jílek
Festival Organizer, Distributor
Jiří Konečný
Producer
Marek Urban
Producer
Peter Baláž
Protagonist
Martin Kollar
Director of Photography, Film Director
Marek Leščák
Screenwriter
Ján Franek
Protagonist
Zvonko Lakčević
Actor
Albert Malinovský
Producer
Radana Korená
Festival Organizer, Distributor
Eva Blažková
Festival Organizer, PR & Marketing
Radka Piskačová
PR & Marketing
Iva Hejlíčková
Festival Organizer
Michal Surma
Festival Organizer, Distributor
Jana Wolff
Sales Agent