Tribute to Larisa Shepitko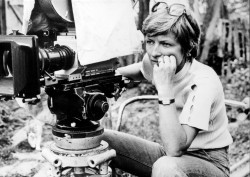 Larisa Shepitko
Anyone with an appreciation for Soviet-era cinema has at some point regretted the number of filmmakers whose talents were squandered in their native region or, at the very least, branded in some way during those long decades of Soviet rule. Even the work of such greats as Alexander Dovzhenko (1894-1956), a master of poetic film and teacher at VGIK (Gerasimov Institute of Cinematography), where he was revered by his student Larisa Shepitko (1938-1979), was noticeably impacted by the period ideological demagogy that assailed its artistic merits. The lie dictated by totalitarianism, which adhered itself to the big screen like a grey membrane, nevertheless frustrated the quest for truth even for filmmakers a generation or two younger than Dovzhenko. Shepitko's age places her among them, however, none of her works reveal any trace of willingness to accept the prescribed view of reality. In this she is a unique exception in her country, similar to Věra Chytilová in the Czech environment, fundamentally undauntable and intransigent in the face of the slightest falsity. One can imagine how much energy it cost Shepitko to maintain this stance, given that she suffered a heart attack at the age of thirty-three and experienced mental exhaustion which required her to seek medical treatment; she also made only four feature-length titles, one medium-length and one television film during the entire course of a professional career spanning almost seventeen years.
For her first film Heat (Znoy, 1963), based on a short story by Chinghiz Aitmatov, Shepitko set off for remote Kirghizia. "It was a long way off and they couldn't see us from Moscow," she stated some time later, explaining the motivation for her decision to film in the harsh climate of this uninhabited region of Asia. And her courage didn't end there; Heat turned the existing schematic conception of positive and negative heroes upside down: the director portrays the tractor driver, described as a "hero of labour" in an urban newspaper, as an illiterate primitive and usurper, while she extols her contemplative young hero, who holds the promise of real progress rather than the threat of brute force. At the same time, her debut demonstrates, through this outwardly unruffled individual, that from the sum of small yet apposite details she was able to construct a character who was vivid and true-to-life.
In a manner similar to young Kemel from Heat, three years later the director introduced the central and, essentially, only character in the film entitled Wings (Krylya, 1966). While Kemel is part of a diversified story with dramatic twists, Wings is a focused psychological study of an ageing, lonely woman gradually pushed to one side as times began to change. Even so, apart from a few flashbacks, Shepitko decided not to incorporate any inner monologues, confessions or subjective perspectives, fully content with the heroine's subtly eloquent confrontations with the people around her. The film leans heavily on the exceptionally sincere performance by Maya Bulgakova in the role of Nadezhda Petrukhina, a former fighter pilot who exists through her memories of the heroic times of war; the present seems colourless and unworthy of her generation's past exploits and the sacrifices they had to make. Nevertheless, it was Shepitko who guided the actress in her muted interpretation, where emotions lay hidden behind the almost unchanging countenance of someone immersed in her own world; only her eyes betray what she is feeling.
In Heat Shepitko had already shown that when she spoke of truthfulness in film, she also meant the truthful depiction of the environment and its atmosphere. She was one of those who, in her home country, endeavoured to ensure authenticity on the screen, and she demonstrated that everything develops from it, whether the story lives its own life or serves as an illustration of a particular principle. Wings is an example of an extremely subtle concept projected onto the entire structure of the work; there is no sense that anything has been specifically arranged – from the conception of the characters, the seamless editing work and the singular use of music, to the camera taking in the city with its daily hustle and bustle, as seen through the eyes of a pensive Petrukhina, who merely perceives her surroundings peripherally without betraying any particular emotion. The director also adopted this narrative style in her only colour film, You and I (Ty i ya, 1971), a statement of her own generation which sought complicated ways out of its existential crisis. Perhaps on this occasion, however, her strong emotional engagement with the theme may have partly let her down since, in terms of the fundamental ethical issues raised by the three protagonists and despite the many authentic details and compelling scenes, the film's pathos and overly declarative nature are somewhat intrusive.
Shepitko's interest in reality nevertheless didn't mean that she chose only sober means to depict it. As Dovzhenko's pupil, she knew that the atmosphere of a place and the unseen crux of a situation could often best be captured with varying degrees of stylisation. Even in her debut she discovered the effectiveness of combining stark objectivity with poeticism and expressivity attained principally using different shot compositions and unusual camera angles, which lent real life a symbolic or metaphorical significance. Shepitko brought this skill to perfection not only in The Ascent (Voskhozdeniye, 1976), her magnum opus and, regrettably, her last film before she was killed in a car accident, but also in her forty-minute adaptation of a brutally sarcastic short story by Andrei Platonov. It's certainly no surprise that The Homeland of Electricity (Rodina elektrichestva, 1967) was locked away in the censors' vault for twenty years: in the film electricity is introduced to a godforsaken, revolution-torn village ("electrification = revolution" was one of the Bolsheviks' key slogans), yet this technological feat is mediated in a highly suggestive way, involving an almost expressionistic series of bizarre images that parade past the viewer like scenes from a grotesque dream.
The Ascent saw Shepitko returning somewhat unexpectedly to the war drama. However, this wasn't simply yet another film on a long list of similarly themed pictures; on the contrary, she succeeded in coming up with something quite different, a work regarded internationally as a masterpiece of the given genre. In keeping with her chosen literary model, a novella by Vasil Bykov, Shepitko examined the critical situation of two, sometimes three, characters unfolding within a confined space and within a short time frame. Set amidst snow-covered fields in the grip of a severe winter, the film evokes the suffering of the partisans and villagers with a sense of tangible urgency yet, at the same time, it acquires significance as an ethically grounded meditation. It looks to the archetypes of human attitudes, it paraphrases the evangelical parables, it compares adherence to the moral principle with its betrayal, it measures the forces of good and evil and, in the spirit of the humanist tradition, it upholds great ideals. This stratified sense underlying the work was profoundly enhanced by film language that erected its own broadly autonomous theme above the bleak reality of the story. Here, the whiteness of the snow is transformed into an unearthly light, disembodying people and objects; slow motion conveys the eternity of the moment, while the wide-open gaze of the martyred heroes calls to mind icons of the Passion.
Larisa Shepitko's next project, the film Farewell to Matyora (Proshchaniye s Matyoroy), based on the novel by Valentin Rasputin, was only partly developed, but with the aid of the director's detailed preparations it was completed as Farewell (Proshchaniye, 1981) by Elem Klimov, Shepitko's husband and professional colleague. One can only imagine that she would have won the kind of respect for this film that she had enjoyed in the case of The Ascent. Shepitko was a great filmmaker who undertook each of her works with the utmost commitment and independence of thought, thanks to which she was able to capture the fundamental aspects of life.
Zdena Škapová