Tribute to Youssef Chahine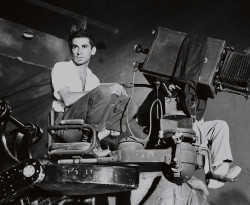 In the realm of the senses: the Egyptian stories of Youssef Chahine
In a filmography overflowing with countless grandstanding moments, a quiet one stands out in Youssef Chahine's (1926, Alexandria – 2008, Cairo, Egypt) formative period: a sultry soda vendor is dragged onto a standing train by a group of young hipsters playing rock 'n' roll. Picking up the beat she starts dancing. A disabled newspaper seller, played by Chahine himself, slowly approaches the window of the train compartment and looks in at the dancing vendor. He gazes at her, they lock eyes, and she stops dancing. A brief look of shame, of awkwardness crosses her face. His eyes are dismayingly blank. She offers him a bottle of soda. He takes it. She smiles. He smiles back. She resumes dancing. He does his own silly dance on the bustling platform.

The scene lasts only four minutes. Not a word is spoken, no tangible dramatic rationale is given. It's a fleeting moment of simple human interaction, at once modest in its intentions yet penetrating in the insight it provides into the central characters. And in 1958 it was unlike anything Egyptian cinema had seen: a moment of disarming emotional nakedness, a moment of pure cinema.
The film is Cairo Station (Bab el-Hadid, 1958), the best-known, most celebrated Arab movie in history; the film that would establish Chahine as the Arab World and Africa's greatest cinematic storyteller for more than half a century. For casual acquaintances of Arab cinema, Cairo Station has been the one movie they associate with Chahine and, by default, Arab cinema. But there's so much more to Chahine's large oeuvre than Cairo Station might suggest – a colorful, diverse, and highly unpredictable body of work encompassing clashing politics, multiple genres, and varied aesthetics.
Born in Alexandria in 1926 to a middle-class family of Greek and Lebanese origin, Chahine came into the world between the wars in the heart of the region's most cosmopolitan city. From an early age he developed a passion for theater, cinema, and Shakespeare. After spending a year at the University of Alexandria, he decided to study acting at California's Pasadena Playhouse, only to quickly turn to directing. After graduating in 1948, he returned to Egypt and soon directed Daddy Amin (Baba Amin, 1950), which employed a frivolous format to break multiple rules. Blending fantasy and family drama, Chahine's debut displayed a knack for moving between different genres.
Chahine's early works remain underseen both in the Arab World and the world at large. Many observers have insouciantly dismissed them as insubstantial works of entertainment that are found lacking when compared to his more personal and overtly political films. These comments miss one major facet of Chahine's cinema: its eagerness to entertain.
Three of his early films are prime examples. The Devil of the Desert (Shaytan al-sahraa, 1954) was his first period piece, an action-packed desert adventure with a political subtext that served as a precursor to his subsequent expansive historical epics. Farewell My Love (Wadda't hubbak, 1956), his second foray into musicals, blends song and dance with romance in an inimitable reinvention of the genre. The picture featured two of Egypt's most beloved singer-actors: Farid El Atrach and Shadia. Chahine would reteam the pair in My One and Only Love (Enta habibi, 1957), an uproarious musical that stands out as Chahine's most accomplished and funniest comedy.
The three films are marked by different moods, different mise-en-scènes, and a different set of sentiments. All are revisionist genre films: skillfully made entertainments constructed according to Hollywood templates yet very Egyptian in style and content.
Chahine's reputation as an international auteur was established early on; his sophomore effort Son of the Nile (Ibn el Nil, 1951) was nominated for Cannes' Grand Prix of the Festival in 1952. Chahine earned his second competition nomination two years later with The Blazing Sun (Siraa fil wadi, 1954), his first work to engage the socio-political situation of the time.

With The Blazing Sun (Siraa fil vadi, 1954), which was made shortly after the 1952 revolution that transformed Egypt from a monarchy to a republic, Chahine would begin a long odyssey of chronicling the political and social reality of post-revolution Egypt. In many of the early works, The Blazing Sun and Farewell My Love (Wadda't hubbak, 1957) included, Chahine's belief in and alliance with the revolution and President Gamal Abdel Nasser, were unshakable. He sided with the working class (as witnessed in Sun) and blatantly championed the army (as displayed in Love), reflecting the universal optimism of a nation living the socialist dream.
No other Chahine picture displayed this new-found national pride more openly than Saladin (Al-Naser Salah al-Din, 1963), a swashbuckling spectacle about the eponymous 12th century Sultan of Egypt who protected Jerusalem from the Third Crusade. Saladin is an obvious piece of pan-Arab propaganda, with the Ayyubid dynasty founder cast as a stand-in for Nasser while the crusaders double as the recently-established state of Israel. The movie's oft-detailed historical inaccuracies are swept under an elaborate rug of action sequences and wide-screen Cinemascope vistas in what was Chahine's first film in color. The brilliantly choreographed battle sequences remain the biggest and most extensive in Arab film history.
Chahine was an unabashed maximalist; even Cairo Station, for all its remarkable restraint and piercing moments of quiet, is replete with searing emotions and high drama. Chahine was, after all, a master of melodrama. The most intimate, most perfectly realized of these was Dawn of a New Day (Fagr yom gedid, 1964), a Douglas Sirk-inspired romance between a former aristocrat and a younger working-class college student. Underneath the seeming condemnation of the dying feudal class and the celebration of the new socialist Egypt lies a less harmonious view of a country still divided more than a decade after the revolution. Two years after the release of Dawn Egypt suffered military defeat in the Six-Day War, and, despite the 1973 victory in the Yom Kippur War, Chahine's unquestioned faith in Nasser and the revolution was in tatters.
Chahine's new-found pessimism towards Arab unity can best be observed in Return of the Prodigal Son (Awdat al-ibn al dal, 1976). Loosely based on André Gide's book of the same name, this ensemble drama reimagines the Arab World as a fractured family waiting for a savior who fails to unite them. A musical tragedy of sorts, Prodigal Son is one of Chahine's most pessimistic works – a searing family saga of a people waking up from a long slumber to find themselves thrust in the middle of a nightmare.
By the late 1970s the utopian Egypt of Chahine's youth no longer existed. From the ashes arose a capitalistic, conservatively homogenous society run by the army and the nouveau riche. Alienated and disillusioned, Chahine ventured to create a series of autobiographical pictures meditating not only on art and family, but on the Egypt that once was. The first (and best) of the four autobiographical films was Alexandria… Why? (Eskanderija... lih?, 1978), a sprawling, star-studded ensemble drama tracing Chahine's teenage years in Alexandria in the middle of World War II. Seeping with nostalgia over the cosmopolitan Alexandria of his childhood, this is Chahine's warmest, most affectionate film: a reaffirmation of his Egyptian identity, as well as a love letter to the Hollywood of his childhood. Over the following quarter century, Chahine would complete his autobiographical quadrilogy, turning ever more inward. He explored his relationship with the Western Other, as well as Egypt's and the Arab world's historical legacies.
A halt to his largely political dissertations – the majority of which were French co-productions – came in 1986 with The Sixth Day (Al-yom al-sadis), the most atypical work in Chahine's late period. Set in 1947 during the cholera outbreak, a grandmother tries to save her grandchild from the fatal epidemic while fending off the advances of a young monkey trainer. A significant part of Chahine's work centers on the individual's futile battle against the ineluctable forces of fate. Various tools are used to slow down or offset the inevitability of death: love, sex and, most important of all, cinema. In The Sixth Day various references to Hollywood and the movies are made, acting as temporary respite before the grim reaper arrives. This is possibly Chahine's greatest legacy. In a career spanning more than half a century and nearly 40 films, the Arab World's most influential filmmaker produced angry pieces of resistance against tyranny, against fanaticism, and against death itself.

The retrospective organized in Karlovy Vary – the biggest of its kind to be featured at any film festival – is a comprehensive introduction to a dizzyingly eclectic, uncategorizable career. This is certainly not the last word on Chahine, whose work remains generously open to multiple interpretations and analyses, but is rather a reverential tribute to one of the greatest artists of the 20th Century.
Joseph Fahim